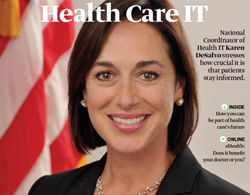 I am optimistic that we are within reach of every American having access to their electronic health information when and where it matters most to them
(PRWEB) September 18, 2015
The print component of "Healthcare IT" will be distributed within this weekend's edition of USA Today, in New York, Chicago, Los Angeles, South Florida, Washington DC, Atlanta and San Francisco, with a total circulation of approximately 450,000 copies and an estimated readership of 1.3 million. The digital component is being distributed nationally, through social media and across a network of top news sites and partner outlets. To explore the digital version of the campaign, click here.
National Coordinator for Health IT and acting Assistant Secretary for Health Karen DeSalvo is featured on the cover of the print campaign. In an exclusive piece, she shares her insights into why the future of healthcare IT lies in interoperability. "I am optimistic that we are within reach of every American having access to their electronic health information when and where it matters most to them," she states.
This campaign was made possible with the support of HIMSS, CHIME, Health Data Consortium, EHR Association, Karen DeSalvo, US Dept of Health and Human Services, Dell Healthcare and Life Sciences, Citrix, Sacred Heart University, University of Central Florida, Cureatr and Anthelio Healthcare.
About Mediaplanet
Mediaplanet is the leading independent publisher of content-marketing campaigns covering a variety of topics and industries. We turn consumer interest into action by providing readers with motivational editorial, pairing it with relevant advertisers and distributing it within top newspapers and online platforms around the world.