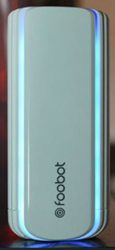 We are committed to helping our customers to naturally optimize their life through air purification & natural supplementation, so this limited time promotion makes total sense to us on an ethical level. It's not about the money; it's about our customers.
Peoria, IL (PRWEB) September 21, 2015
US Air Purifiers LLC, an Illinois firm specializing in high quality air purification systems, is pleased to announce that it will be offering a free multivitamin package (value $100) manufactured by the leading natural nutritional company in the US with all purchases of the Foobot home air quality monitor. The firm is among the first to offer the monitoring system, which helps to ensure the highest level of home air quality.
The Foobot system is a compact air monitor that uses LED visual displays to indicate the overall quality of air in a given environment. The color coded readout makes the device easy to use and understand, and the ability to sync to most smart devices allows users access to more in depth information about their environment. In addition to testing tVOCs and particulate matter levels, the monitor also displays temperature and humidity data on a consistent basis. Foobot has also recently announced that it will provide automatic software updates to all of its units, ensuring that all Foobot home air quality monitors are using the latest and best programs at all times.
The Foobot is ideal to inexpensively educate consumers about their indoor air quality; therefore, saving them money and time by pin-pointing the best ways to improve their indoor air so they can be healthier.
As a special offer, US Air Purifiers has announced that it will be supplying a free multivitamin package (value $100) from Health and Harmony LLC, an industry leader in natural health supplements, along with all Foobot purchases. To take advantage of this offer, customers need only enter "Men", "Women", or "Gold" (for customers over the age of 50) in the comments field at checkout. This promotion will remain in force as long as supplies last.
About the Business:
Barb and Dick Lulay's customers are passionate about naturally reducing their risk of disease. Their customer service and product expertise make shopping with http://www.USAirPurifiers.com and http://www.OttersDream.com an ideal experience. With a full line of natural products such as air purifiers, natural supplements, green cleaners, weight management and paraben free skin care, families find they can conveniently do their household shopping online with home delivery. As successful business owners, the Lulays offer a mentoring program for other aspiring entrepreneurs. They present exceptional marketing tools and a training program that shows how to generate immediate income as well as long term passive income.