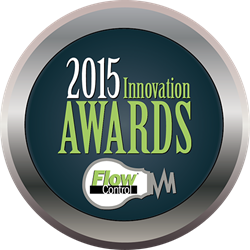 We congratulate this year's winners for their technological contributions to industrial fluid handling systems, which are resulting in increased process efficiency, cost savings, energy savings, and other compelling benefits."
BIRMINGHAM, Ala. (PRWEB) September 18, 2015
Flow Control is pleased to introduce its 2015 Flow Control Innovation Award winners, representing the fluid handling industry's ongoing commitment to manufacturing excellence and technological advances.
Through its annual Innovation Awards program, now in its second decade, Flow Control recognizes the industry's latest innovations and technology breakthroughs based on a nomination and reader voting process. This year's winning technologies cover a wide range, from flow, pressure, and temperature measurement to valves and process control solutions.
"We thank all who participated in this year's Innovation Awards program, from the manufacturers who submitted nominations for new technologies to our readers who placed votes," said Matt Migliore, executive director of content for Flow Control magazine and FlowControlNetwork.com. "We congratulate this year's winners for their technological contributions to industrial fluid handling systems, which are resulting in increased process insight, cost savings, energy savings, and other compelling benefits."
The 2015 Flow Control Innovation Award winners are:
ASCO 364 Series Stainless Steel Spool Valve
By ASCO Numatics
Model 5700 Advanced Field-Mount Transmitter
By Emerson Process Management – Micro Motion
Proline Prowirl 200 Vortex Flowmeter
By Endress+Hauser
Model FT1 Thermal Mass Flow Meter and Temperature Transmitter
By Fox Thermal Instruments
Thermatel TA2 Auto Switching, Thermal Mass Flowmeter
By Magnetrol International
Sage Portable Datalogging Thermal Mass Flow Meter
By Sage Metering
Foxboro S Series Pressure Transmitter
By Schneider Electric
SITRANS FC410 Coriolis Flow Meter
By Siemens Process Instrumentation and Analytics
Mass Flow Converter APP
By Teledyne Hastings Instruments
Award nominees were announced in the June 2015 edition of Flow Control magazine and presented for reader voting through Aug. 1 on http://www.FlowControlNetwork.com. Winners were officially announced in the September issue of Flow Control magazine. A case study section in the October magazine will showcase how each technology is helping improve real-world flow applications.
To read more about the 2015 winners, visit http://www.flowcontrolnetwork.com/innovationawards.
About Flow Control Magazine
Flow Control magazine is the leading source for fluid handling systems design, operation and maintenance. It focuses exclusively on technologies for effectively moving, measuring, and containing liquids, gases, and slurries. It aims to serve any industry where fluid handling is a requirement.
Flow Control magazine, Grand View Media, 200 Croft St., Suite 1, Birmingham, AL 35242, FlowControl(at)GrandViewMedia(dot)com, http://www.FlowControlNetwork.com.