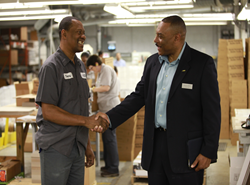 "Just the existence of the Chaplain Care Team at David Weekley Homes helps to set the tone for the level of integrity and morals expected from its people., David Weekley, CEO David Weekley Homes.
Plano, Texas (PRWEB) September 19, 2015
In a recent State of Small Business Report, the survey revealed hiring and retaining employees as one of their biggest challenges in 2015, a trend being addressed by hundreds of companies by hiring Marketplace Chaplains, America's largest and original workplace chaplaincy organization.
The survey conducted by Wasp Barcode Technologies, 1 asked 1,000 small businesses leaders about their challenges and opportunities for the year. For companies with 51-100 and 101-499 employees, hiring employees was listed as one of the top challenges for their companies.
Finding the right employee, and then keeping well-qualified employees from leaving is a constant challenge. One challenge solved by many innovative CEO's through the use of Marketplace Chaplains.
"Just the existence of the Chaplain Care Team at David Weekley Homes helps to set the tone for the level of integrity and morals expected from its people. It was one of the items that really attracted me to David Weekley Homes, because it showed me they had a vested interest in my overall well-being, and not just in what I could do for the company," said a new employee of the large Texas-based homebuilding firm.
David Weekley Homes has been awarded Fortune Magazine's "Best Companies to Work For," for six straight years, and have utilized Chaplain Care Teams from Marketplace Chaplains for more than a decade. "It's a key part of what we offer employees as part of our care and concern for them," said CEO David Weekley.
Pioneer Natural Resources, headquartered in the Dallas, Texas area, another Marketplace client company, was named as "The Top Place to Work in North Texas" in 2014 by the Dallas Morning News, partly due to their use of Marketplace Chaplains.
"In my position, if I don't hear anything from the field, then everything is working well. They don't just call or e-mail to give positive feedback; however, Marketplace Chaplains has been the exception," said Larry Paulsen, Vice President Administration and Risk Management for Pioneer.
"We help attract great employees who want to know about the company they work for, and work for a company who values them as they spend most of their waking hours at work," said Marketplace Founder Gil A. Stricklin.
"Even though many are out of work, there is tough competition for highly skilled, competent employees in today's workplace." Offering care, support, and a lending ear are just some of the ways in which Marketplace Chaplains helps companies make a difference in the lives and productivity of their employees," added Stricklin.
Currently, Marketplace has over 2,200 Chaplain Caregivers serving in over 3,637 worksite locations weekly in North America, Europe, and Asia Pacific, helping 163,400 employees and 454, 252 of their family members.
For more information on this unique employee benefit which has been featured with Marketplace Chaplains on CNN, NBC Nightly News, and in the Washington Post, the New York Times and Bloomberg BusinessWeek, visit http://www.mchapusa.com.
About Marketplace Chaplains
To arrange an interview with a Marketplace Chaplain contact Art Stricklin, Vice President Public Relations, at artstricklin(at)mchapusa(dot)com or call 1-800-775-7657.
References:
http://www.waspbarcode.com/small-business-report