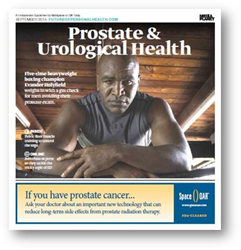 The fact that 1 out of every 5 African-American men will get prostate cancer in his life is disturbing
(PRWEB) September 18, 2015
Worldwide, urological issues and disorders affect millions of people physically. But there is an emotional obstacle as well. From prostate and bladder cancer to erectile dysfunction and pelvic organ prolapse (POP), this campaign provides a detailed look at the variety of complications associated with urological health, as well as suggestions and solutions so millions can find relief.
In support of September being Prostate Cancer Awareness Month, exclusive editorial contributed by the Prostate Cancer Foundation and Prostate Health Education Network highlights the issue and explains the prevalence of this terrible disease that is 100 percent treatable if detected early.
"What impacted me the most were the statistics," explains Evander Holyfield in the featured interview. The Goodwill Ambassador for the Prostate Cancer Foundation continues, "The fact that 1 out of every 5 African-American men will get prostate cancer in his life is disturbing…Even tough guys like me get checked for prostate cancer…It can save your life and it takes just a few minutes in a doctor's office."
The campaign also features exclusive editorial from the Association for Pelvic Organ Prolapse Support, who illuminate the reasons why 1 in every 2 women suffer in silence from this condition, and encourage women to speak about signs and symptoms with their health care professional to increase awareness of this disease.
The print component of "Prostate & Urological Health" is distributed within USA Today, with a circulation of approximately 450,000 copies and an estimated readership of 1.3 million. The digital component is distributed nationally, through a vast social media strategy, and across a network of top news sites and partner outlets. To explore the digital version of the campaign, click here.
This campaign was made possible with the support of the American Urological Association, Prostate Cancer Foundation, Prostate Health Education Network, National Kidney Foundation, Association for Pelvic Organ Prolapse Support, American Medical Systems, Bayer, AstraZeneca, PeriCoach, Augmenix, MDxHealth, Xion Medical, The Elator, NeoTract Inc., Coloplast and many more.
About Mediaplanet
Mediaplanet is the leading independent publisher of content-marketing campaigns covering a variety of topics and industries. We turn consumer interest into action by providing readers with motivational editorial, pairing it with relevant advertisers, and distributing it within top newspapers and online platforms around the world.