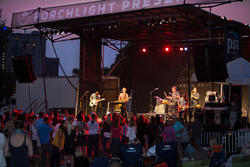 [PorchLight Presents is] the perfect example of what makes our company different—a culture of collaboration, hard work, service to others, and fun!
Denver, CO (PRWEB) September 21, 2015
On August 20th, approximately 1,400 PorchLight Real Estate Group agents, staff, clients and friends gathered for the company's inaugural PorchLight Presents—a private fundraising concert. Hosted at the bucolic Four Mile Historic Park, the concert featured headliners Saint Motel, and ended up raising more than $16,000 for PorchLight's charity partner, Urban Peak—a nonprofit serving teens experiencing homelessness in the Denver and Colorado Springs metro areas.
The feel of the evening took a cue from the rustic surroundings with attendees ordering dinner from a variety of food trucks; enjoying donation-based beer, wine and signature cocktails from sponsor Woody Creek; and gathering on blankets on the grass or around picnic tables with mason jar candle centerpieces. Denver-based comedian Jordan Doll acted as emcee and welcomed Phillip Jenkins—a young man who'd previously used Urban Peaks' services—who performed as the opening act. Then international indie pop sensations Saint Motel took the stage to headline, playing a variety of covers and originals—including their current smash hit "My Type."
"One of PorchLight's central tenets is encouraging our agents to build relationship-based businesses," says co-founder and CEO Amy Bayer. "We came up with PorchLight Presents because it allows our agents to gather their clients and friends for a terrific event while raising money and giving back to the community. It's the perfect example of what makes our company different—a culture of collaboration, hard work, service to others, and fun!"
Through ticket sales and bar donations, PorchLight ended up raising $16,190.32 for Urban Peak and will present a check to the nonprofit on Thursday, September 24th.
"The PorchLight Presents event was such a fun and fresh way to connect with the community about the issues that youth experiencing homelessness face every day," says Urban Peak CEO Kim Easton. "The best part was seeing a former Urban Peak youth performing at the event as a testament to how powerful the support we provide can be in the life of youth who are struggling. The money raised at the event will help us to continue to provide services, support and the 'go-to' people youth need on their side to change their lives in a positive direction."
PorchLight is already in the planning stages of the Second Annual PorchLight Presents, which will take place some time in the summer of 2016. The company hopes to continue the tradition for years to come and expand the reach of both the concert and the funds raised.
------
With offices in Cherry Creek, the Golden Triangle, Bonnie Brae and in the heart of the Denver Tech Center, PorchLight Real Estate Group provides customized realty services to residential buyers and sellers in the greater Denver metro area. PorchLight's thoughtful and knowledgeable agents take a people-centered approach, offering five-star service that is perfectly matched to each individual client. Smart, savvy, and seriously fun. Welcome to PorchLight.