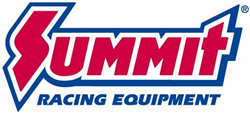 Tallmadge, OH (PRWEB) September 19, 2015
Summit Racing now carries new Merlin III engine blocks for performance enthusiasts that want to build a winning big block Chevy V8 or dress up their engines with Holley's 'old school' style air cleaners and valve covers.
World Products Merlin III Engine Blocks for Big Block Chevy
Merlin blocks have always been a solid foundation for a big block Chevy build. Now World Products has made the Merlin block even better. Ideal for street performance and ET bracket racing, the Merlin III is made from high density iron and CNC-machined to QS-9000 specifications on just two fixtures. That process eliminates tolerance "stacking" common on production lines, ensuring engine builders get a block that is as close to perfect spec as modern manufacturing allows.
Holley Vintage Series Air Cleaners and Valve Covers
The old school vibe is still going gangbusters. Holley's Vintage Series Valve Covers and Air Cleaners feature a classic finned look plus an old-timey Holley logo—ideal for everything from hot rods to modern muscle. These small block Chevy valve covers' die-cast aluminum construction means less chance of warping and oil leakage compared to stamped steel. The 14 inch diameter air cleaners are available with a three or four inch tall filter element--users choice of paper or reusable cotton gauze.
Summit Racing Equipment
http://www.SummitRacing.com
1-800-230-3030