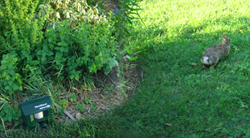 Moreover, there is no indication of recovery at sites from which rabbits were removed 20 years ago.
Chicago, IL (PRWEB) September 18, 2015
Fall officially begins on September 23 but many are feeling the effects now, including issues with rabbits. According to the Humane Society rabbits eat the bark of trees and shrubs, notably those found in gardens, primarily during the fall and winter months. Bird-X, humane pest control experts since 1964, explains why rabbits cause so many problems in the United States and on a global scale – both now and in our history books.
Rabbits are common pests that Bird-X commonly works to control, and for good reason. Just last week Smithsonian Magazine presented new research proving that rabbits are some of the world's worst invasive species. In fact, recent studies have proven that the presence of rabbits can have dire consequences for the biodiversity of any land they frequent.
French explorers first introduced non-native rabbits to The Kerguelen Islands (in the far southern Indian Ocean) towards the end of the 19th century. While the islands became important stopping points for whaling and seal-hunting ships, the land itself was void of land animals and crops. In an effort to make the islands more hospitable and to create stock for future meals, the French purposefully imported and released rabbits onto the islands.
Furthermore, researchers with the Royal Society Publishing studied three of the islands to record the effects of the rabbits in different areas, including the island of Grand Terre, Ile Guillou, and Ile Australia. While the island of Grande Terre has a large rabbit population, the rabbits of Ile Guillou were eliminated in 1994.
These researchers found that the island of Grade Terre's native plant life suffered greatly with the presence of rabbits, and furthermore rabbit burrows made the land more susceptible to erosion. Furthermore, while the rabbits of Ile Guillou were eradicated over 20 years ago, their plant and fungal communities still resembled that of Grande Terre, indicating that the pests have long-lasting effects on the areas they invade.
"Our results suggest that on these islands, the simplification of plant communities and increased erosion resulting from the introduction of rabbits have driven compositional changes, including diversity reductions, in indigenous soil fungal communities," the Royal Society Publishing article's researchers explain. "Moreover, there is no indication of recovery at sites from which rabbits were removed 20 years ago."
Considering how widespread invasive species of rabbits are worldwide, it seems these invasive species are capable of far more damage than previously realized. The devastation caused by invasive species worldwide is becoming more and more apparent through studies such as these, and those with gardens ought to take note of the long-lasting, drastic damage that can and does occur.
There are several available methods from Bird-X that can be used to repel pest rabbits from properties to keep them from burrowing, pooping in yards, or devouring landscaping. The Yard Gard is a powerful ultrasonic device that uses frequencies above the range of most human hearing to deter unwanted pests, including pesky rabbits, from areas that need protection. Utilizing ultrasonic sound waves, this device does not harm the rabbits, but encourages them to find alternative areas for living and feeding.
Bird-X, Inc. has spent over 50 years as the leading international brand of humane bird and pest control products and is dedicated to protecting the health of humans, wildlife, and the environment in which we all live. The Chicago-based company manufactures a complete line of unique pest control products with an unmatched focus on quality, efficacy, and customer service.