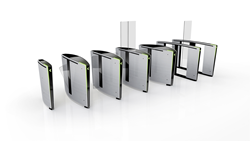 The company also announced that it has recently expanded technical staff to support continued strong growth in sales and installation of its turnstiles and revolving doors. Boon Edam statement.
Lillington, North Carolina (PRWEB) September 17, 2015
Boon Edam Inc., the leader in security entrances and architectural revolving doors in the Americas, today announced it will showcase its Speedlane Lifeline optical turnstile series at the upcoming ASIS International 61st Annual Seminar and Exhibits in Anaheim, California, September 28th-September 30th. The company also announced that it has recently expanded technical staff to support continued strong growth in sales and installation of its turnstiles and revolving doors.
Speedlane Lifeline Optical Turnstile Series
The Speedlane Lifeline Series is the latest innovation from Boon Edam that provides tailgating prevention coupled with a sleek, v-shaped cabinet design, intuitive response to users and energy savings. The sensors in each cabinet awaken from an energy saving sleep mode at the approach of a user and an LED light display guides the user to approach the nearest cabinet and present their credentials. The Series is available with swinging or sliding barriers of multiple heights, or no barrier at all for closely supervised applications where only tailgating detection is preferred, The Lifeline Series is available in contemporary, designer colors or custom colors.
A video about the Speedlane Lifeline Series can be seen at http://www.boonedam.us/lifeline.
Other Boon Edam news at the show includes an upgrade to our largest booth at ASIS, showcasing a total of 12 products, organized by type: Security revolving doors and mantrap portals, full height and waist turnstiles, and the featured Lifelines Series. In addition, Spanish-speaking Business Development Managers will be on-hand to converse with Mexican, Central, and Latin American customers and partners. The full range of Boon Edam entry solutions will be available for demonstration at booth #3100.
Technical Staff Expansion
In a response to increased demand, and unsurpassed growth in the past few years, Boon Edam has recently hired several technical positions.
The Technical Installation team, which provides planning, project management and installation support of all Boon Edam projects in the Americas, has grown from two representatives last year, to four, with the addition of Brenda Myers, previously from Inside Sales with over 15 years' experience, and Katelynn Freeman.
The Technical Support Team, which handles on-demand phone support for installed products, has recently added Fred Hall, who has over ten years' experience on the production line, as well as new hire John Callahan.
Boon Edam is currently seeking Field Service technicians to support distributor partners and contractors with the repair and maintenance of installed products. Recently the company hired Mark Paulsen for the Northeastern USA and Canada, Pasquale Rome for the New York Metro area and Eduardo Guzman in Mexico.
For Further Information, Please Contact:
Tracie Thomas
Marketing Manager
T 910 814 8113
E tts(at)boonedam(dot)us
For Media Queries, Please Contact:
Bruce Doneff
Public Relations
T 843 476 3022
E doneff(at)verizon(dot)net
About Royal Boon Edam
With work environments becoming increasingly global and dynamic, the entry has become the center of activity in and around many buildings. As the importance of the entry as a mobility hotspot increases, the demands we put on managing the passage of people through them grow. Royal Boon Edam is a global market leader in entry solutions. Headquartered in the Netherlands, with 140 years of experience in engineering quality, we have gained extensive expertise in managing the movement of people through office buildings, airports, healthcare facilities, hotels and many other types of buildings. We are focused on providing an optimal experience for our clients and their clients. By working together with you, our client, we help determine the exact requirements for the mobility hotspot in and around your building and develop a solution that is customized for you in three key areas: sustainability, security and service. You can find more news about Boon Edam on http://www.boonedam.us/newsroom.