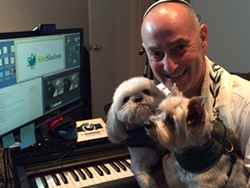 By performing the animal blessing we have not only cemented a relationship with animals that is kind, respectful and loving but those same principles are fostered in all relationships. Rabbi Steven Blane
New York, NY (PRWEB) October 01, 2015
Sim Shalom, the world's only virtual synagogue, will assemble the world's only global virtual blessing of animals on Friday, October 16. Respect for animals as creatures of G-d's creation is an implied teaching of Judaism. Psalms 145:9 teaches that the sanctity of all life is part of G-d's work. Honoring animals with a blessing bestows that covenant. Commemorating online offers an opportunity for those that might otherwise not be able to participate. Congregants and their companions can partake in the prayer and joyous music ceremony from anywhere in the world with wifi, simply by clicking on http://www.simshalom.com at 7:00pm EST. In addition, congregants can submit their pet's name to be blessed via the chat feature which allows live interaction among participants.
Blessing of the animals highlights the dramatic evolution since the ancient sacrifices of lamb and goat and biblical stories such as Cain and Abel. Animal offerings have not been a Judaic practice since the Holy Temple in Israel was destroyed in 70 CE. Sim Shalom's annual animal blessing elevates the importance of animal compassion and welfare as strong Jewish moral values. The blessing also recognizes the important bond shared by congregants and their pets as part of their family.
Sim Shalom is one of a small group of synagogues, that is on the forefront of incorporating the ritual, that is more commonly practiced by the Catholic Church as sanctification of a bond for all living creatures. There are historic roots in Jewish literature connecting the blessing to Passover and the joy of all - kind released from bondage. Of particular importance to Sim Shalom's founder Rabbi Steven Blane, is the Torah portion Parshah Noach, Noah and the Ark, which follows the High Holidays. According to Rabbi Blane, "by performing the animal blessing we have not only cemented a relationship with animals that is kind, respectful and loving but those same principles are fostered in all relationships."
About Sim Shalom and JSLI
Sim Shalom is an interactive online Jewish Universalist synagogue that is liberal in thought and traditional in liturgy. Created in 2009 by Rabbi Steven Blane on Manhattan's Upper West Side, Sim Shalom offers a means of connecting the unconnected. Rabbi Blane leads accessible and short Kabbalat Shabbat services every Friday night using a virtual interface and additionally Sim Shalom provides online education programs, Jazz concerts, conversion and life-cycle ceremonies along with weeknight services at 7:00PM EST led by Rabbis and students of this online community.
Rabbi Blane is also the founder and director of the Jewish Spiritual Leader's Institute, the online professional rabbinical program.
Sim Shalom, a non profit 501 (c) (3) tax-exempt organization, nurtures a Jewish connection through its mission of innovative services, creative education and dynamic outreach to the global community.