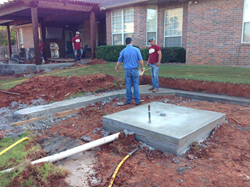 It's a very exciting time at Red Valley Landscape.
Oklahoma City, OK (PRWEB) September 23, 2015
Red Valley Landscape, a landscaping and construction company located in Edmond, OK, is beginning construction on its new headquarters on Oct. 1, 2015. The building will be located in north Oklahoma City (OKC). After the construction process is completed, it will serve as a design center with a production warehouse where potential customers may get a glance at the residential and commercial landscape services offered by the company.
The growth of the company comes as a testament to OKC's booming economy, rising population and increase in demand for landscaping services. Through Red Valley Landscape's rapid growth spurt, it has generated $12.5 million for Oklahoma's economy while also doubling its number of jobs created annually. The business has exceeded its fifth year growth projections in less than three years.
"It's a very exciting time at Red Valley," said Mike Freeman, landscaping professional of 18 years and founder of Red Valley Landscape. "I moved my family to OKC from Dallas in 2012 because I knew there was a lot of potential for new business. We're glad we're now able to offer new jobs and enhance the lives of other Oklahomans through Red Valley Landscape and Construction."
Some projects completed during the last few months of the summer include updating local, corporate facilities for oil companies, building student housing at the University of Oklahoma (OU), constructing a mobility park for the Hanger Clinic of OKC and giving the Regional Food Bank of Oklahoma's entrance a new look. As the company grows looking toward the future to take on new projects, more employment opportunities will become available.
The following positions are now open for hire: office staff, production staff, project manager, and junior designer/estimator. For inquiries, contact Mike Freeman with a résumé via email at info(at)redvalleylandscape(dot)com. Visit redvalleylandscape.com and follow the company on Facebook for more information.
Red Valley Landscape and Construction is OKC's choice outdoor living design and construction firm. It specializes in full, custom outdoor kitchens, swimming pools and landscape design. The Red Valley team services all of Greater OKC, Yukon, Piedmont, Mustang, Deer Creek, Edmond, Guthrie, Norman, Moore, Del City, Midwest City and other nearby areas. Call 405-509-2300 or go to redvalleylandscape.com to learn more about the business and its services.