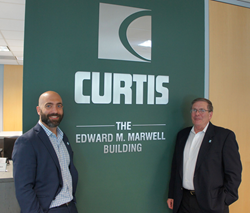 Mount Kisco, New York (PRWEB) September 17, 2015
Curtis Instruments, Inc., headquartered in Mount Kisco since 1960, is pleased to announce that Nicholas Marwell will join the corporation as Vice President, New Business Development effective Sept. 1. He represents the third generation of the family to be actively involved in the management of the company, which was founded by his grandfather Edward M. Marwell and Curtis Beusman. Like his father, Stuart Marwell, the president and CEO of Curtis, Nicholas Marwell had first established a successful career outside of Curtis prior to joining the company on the senior management level.
Nicholas Marwell holds a Master's degree in International Business and Environmental Policy from the Fletcher School of Law and Diplomacy, Tufts University, in Medford, Massachusetts and a Bachelor of Arts in philosophy degree, Magna Cum Laude, from Connecticut College in New London, Connecticut.
He joins the company after more than five years holding successively responsible positions at the World Bank Group in Washington, D.C. His most recent assignment focused on ramping up the institution's state-building support and development assistance to Somalia, which is undergoing a tenuous transition toward greater stability and peace after more than two decades of civil war and state collapse.
Prior to the foreign policy and economic development fields, Nicholas Marwell worked in photojournalism, first as an editor with the Associated Press and then as manager of new media business development for Magnum Photos, a historic photography agency founded by Henri Cartier-Bresson and Robert Capa, among others. At the latter, he developed new business models that focused on innovative partnerships and integrated sponsorships with media organizations and technology companies, including Slate.com, Nokia, and HP.
Upon joining the company, Nicholas Marwell said, "Curtis Instruments is an industry leader with a worldwide reputation for engineering excellence. It's an exciting time to support new ventures and pursue new business opportunities. Curtis has a great management team and a talented workforce that spans the globe. With a young daughter, my family is fortunate to be joining an extremely supportive company that is consistently ranked one of the best places to work in New York State."
Nicholas Marwell has been an active member of the Curtis Board of Directors since 2010.
Together with his wife Margaret and their daughter Mina, the family is relocating from Washington, D.C. to Katonah, New York.