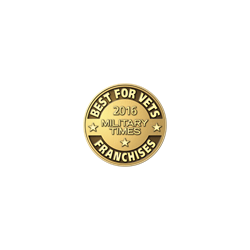 U.S. Lawns is proud to be recognized by Military Times as #10 in their Best for Vets
Orlando, FL (PRWEB) September 22, 2015
U.S. Lawns has proven to be a good fit for military veterans, ranked number 10, as Military Times announced its Best for Vets: Franchises 2016 rankings.
The organization comprising Army Times, Navy Times, Air Force Times and Marine Corps Times focused on financial incentives, brand performance and policies that cater to veterans and reservists when conducting and scoring the Best for Vets: Franchises survey, a highly respected, more-than-100-question analysis of a franchise's efforts to provide veterans an environment for success.
"As with all of the Best for Vets rankings, Best for Vets: Franchises is an editorially independent news project that evaluates the many factors that make an organization a good fit for military veterans and spouses," said Amanda Miller, editor of Military Times' Best for Vets rankings and special editions.
The full rankings are available online at ArmyTimes.com, NavyTimes.com, AirForceTimes.com, MarineCorpsTimes.com and MilitaryTimes.com at this link: http://www.militarytimes.com/story/veterans/best-for-vets/2015/09/14/best-vets-franchises-2016-42-brands-benefits/72065632/
"We strive to reach out to our military veterans and offer them a chance to become entrepreneurs as they transition out of the military," said U.S. Lawns President Ken Hutcheson. "U.S. Lawns is proud to be recognized by Military Times as a supporter of veterans. We truly are behind vets 100% for their commitment to our country and for their sacrifice."
About U.S. Lawns:
Founded in 1986, U.S. Lawns services commercial landscape customers through a network of over 260 locally owned franchise locations nationwide, providing customized commercial landscape management and snow & ice management services to corporate campuses, retail centers, industrial parks, multi-family residential communities and other commercial customers.