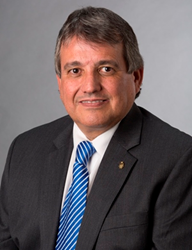 As an accomplished megaproject architect, JC brings significant Florida design and management expertise to HNTB
LAKE MARY, Fla. (PRWEB) September 18, 2015
Juan Carlos Arteaga, AIA, NCARB, CBO, CGC, LEED ® AP joined HNTB Corporation as senior director of the Southeast Division aviation architecture practice and associate vice president. He is based in the firm's Lake Mary, Florida, office.
In this role, Arteaga serves as HNTB's architect of record managing large, high-profile aviation terminal projects. He will help build HNTB's growing aviation architectural practice, focusing on the southeastern U.S. while also supporting the firm's national aviation architecture practice.
Arteaga has more than 30 years of experience in managing, planning, designing and building large, complex programs throughout the world in multiple disciplines, including airports, transportation facilities, commercial and industrial developments. He offers a broad range of expertise in architectural services, including schematic design, construction administration and design development.
"As an accomplished megaproject architect, JC brings significant Florida design and management expertise to HNTB," said Bill Brooks, PE, HNTB Southeast Division aviation leader and associate vice president. "His wide array of experience will be of great value to our clients who are developing large, fast track capital programs to accommodate the explosive growth they are experiencing."
Arteaga formerly served as deputy director of capital improvements and regulatory compliance for the Miami-Dade Water and Sewer Department, where his responsibilities included managing and directing design and construction of the department's $13.5 billion capital improvement program. Arteaga's experience also includes serving as program director for design and construction for the $3.1 billion North Terminal Development Program at Miami International Airport, where he also acted as architect of record for several projects that were part of the program.
Arteaga is a member of Airports Council International, National Council of Architectural Registration Boards, American Institute of Architects, International Code Council, Southern Building Code Congress International, United States Green Building Council, and American Water Resources Association, among others. He received the Professional Merit Award from the Latin Builders Association in 2012, and the Charles W. Clary Government Service Award from AIA in 2011. Engineering-News Record recognized Arteaga with its Best Projects Merit Award–Transportation in 2011.
HNTB was ranked as the No. 1 airport design firm in Roads & Bridges magazine's 2014 Go-To List as preferred by the publication's readers. The firm has worked on signature aviation projects at airports across the country and in Florida including Fort Lauderdale-Hollywood International Airport and Miami International Airport.
HNTB Corporation is an employee-owned infrastructure solutions firm serving public and private owners and construction contractors. With more than a century of service in the United States and 60 years in Florida, HNTB continues to grow in size and service offerings to Florida clients from 13 office locations, currently employing approximately 380 full-time professionals in the state. HNTB understands the life cycle of infrastructure and addresses clients' most complex technical, financial and operational challenges. Professionals nationwide deliver a full range of infrastructure-related services, including award-winning planning, design, program management and construction management. For more information, visit http://www.hntb.com.