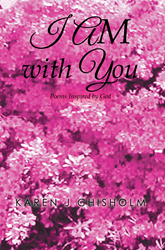 I spend my early-morning quiet time with God and wait to hear his words.
HOUSTON (PRWEB) September 19, 2015
Any form of communication should be treated as a medium for creativity, so why shouldn't messages from God be treated the same way?
Karen J. Chisholm, a director of music ministries in her local church, is a font of creativity and wants to use her gift to help bring faith to readers. Her new poetry collection, "I AM with You," shares short passages of words brought from above.
"I spend my early morning quiet time with God and wait to hear his words," Chisholm said. "I am often surprised by what comes out, but I know that the more forms of God's messages that are out there, the more people he can reach."
Whether it's writing her poetry, directing the music ministries, directing her church choir, playing piano or performing at assisted living centers, Chisholm loves to share her creativity with the world while spreading the word of Christ. She has recorded CDs such as I Delight in You and continues to write regularly.
"I AM with You" hopes to share God's messages with new people and inspire them in their faith.
For more information, please visit http://www.iamwithyou-chisholm.com/author/
"I AM with You"
By: Karen J. Chisholm
SC-ISBN: 978-1-4990-6842-9
SC-Retail price: $19.99
HC-ISBN: 978-1-4990-6841-2
HC-Retail price: $29.99
EB-ISBN: 978-1-4990-6843-6
EB-Retail price: $3.99
Available at barnesandnoble.com, amazon.com and Xlibris.com
About the author
Karen J. Chisholm worked for U.S. Space Program at NASA Johnson Space Center in Houston and is a former member of National Management Association and American Business Women's Association. Chisholm has three sons, six grandchildren and a host of other folks who call her "Grandma Karen." Music, reading and writing in various forms in the name of the lord are her truest passions.
###
**FOR IMMEDIATE RELEASE**
EDITORS: For review copies or interview requests, contact:
Spencer Hotz | 317.602.7137| shotz(at)bohlsengroup(dot)com
(When requesting a review copy, please provide street address.)