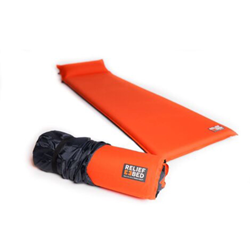 "We are confident that Relief Bed's will be a positive step forward towards promoting improved health, strength and hope for a better tomorrow."
Seattle, WA. (PRWEB) September 21, 2015
"Sleep is the number 3 biological need following water and food. Millions of people around the world either sleep on the hard ground, floor or on a couch which does not provide the proper back support or pressure relief to the body to ensure a rejuvenating nights rest," said Smalling. "We plan to provide these strategically built beds while taking into consideration the recipient's unique environment. We are confident that Relief Bed's will be a positive step forward towards promoting improved health, strength and hope for a better tomorrow."
To help bring this vision to life, Relief Bed™ has partnered with World Vision®, one of the world's leading humanitarian organizations, and Therm-a-Rest®, the world's leading designer and manufacturer of portable sleep solutions. Relief Bed™ has already started distributions through World Vision® with a shipment headed for Zambia, Africa.
*Video password is reliefbed
"Children are the most vulnerable population when faced with poverty, homelessness or natural disaster," said World Vision Director of Corporate Engagement Angela Appleton. "The comfort and security of a bed in times of need can serve to improve health, healing and recovery. Health services in many areas where World Vision works are over-subscribed and greatly under-funded so much so that occupancy rates in hospitals and clinics can reach well over capacity, meaning that patients have to sleep on the floor or on makeshift beds in hallways or even outside. Relief Bed's donation will provide basic comfort for children as well as hospital in-patients. Its donations are meeting fundamental human needs in the most difficult of circumstances."
Relief Bed's key product was built around Smalling and Therm-a-Rest's innovative foam and bedding expertise to build a bed that can withstand the rigors of an unpredictable outdoor environment while providing support and pressure relief to the user.
"Therm-a-Rest® has been working for over 40 years designing and manufacturing camping mattresses that help bring comfort to the most challenging of conditions," said Doug Jacot, Vice President, Therm-a-Rest®. "We're proud to bring that experience to Scott's cause and help those most in-need of a warm, comfortable place to sleep."
After requesting feedback from mission workers in the field, many unique factors had to be considered when creating the Relief Bed™. Research concluded that Relief Bed's needed to insulate the body from varying ground temperatures, which can disrupt your sleep, water repellency, UV resistant, insect resistance, and ease of cleaning. Another important feature is the bed can roll up to less than a 1/2 a cubic foot from a substantial 72" long by 20" wide bed for ease and cost efficient transportation around the globe. In addition to these unique features, the Relief Bed™ is still able to provide support and pressure relief using Therm-a-Rest's proprietary adjustable air/foam technology, allowing users to customize the bed to their unique body size and comfort preference.
Smalling plans to raise money to support Relief Bed's mission through cause marketing projects in the sleep sector, public or private grants and crowd funding initiatives to name a few.
Visit Relief Bed online at http://www.reliefbed.com to learn how you can help support Relief Beds mission to provide better sleep to the world!
Seattle-based Therm A Rest® has been designing outdoor sleep systems since 1971. They are an industry leader in innovative insulation technology using the self-inflating sleeping pad made to last through years of even extreme excursions.
World Vision is a Christian humanitarian organization dedicated to working with children, families, and their communities worldwide to reach their full potential by tackling the causes of poverty and injustice. World Vision serves all people, regardless of religion, race, ethnicity, or gender.