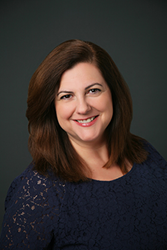 Plainfield, Ill. (PRWEB) September 22, 2015
Spring-Green Lawn Care is pleased to announce the addition of Nonna Kofman to focus on developing programs that will support the company goals in the areas of marketing and technology, as well as leading customer acquisition and retention and making enhancements to the technology platform. Prior to joining Spring-Green, Kofman successfully led multi-million dollar marketing automation, digital platform and e-commerce projects for large and mid-size companies, such as Motorola, AeroBed, Brightspark Travel and Follett School Solutions.
In her new role as Vice President of Marketing, Nonna recognizes the important part marketing plays in the success and growth that Spring-Green hopes to achieve. She's also excited about the opportunity to influence Spring-Green franchise owners. "Marketing has a direct impact on the success of our franchise owners. Having that tangible effect on a large number of family-owned, small businesses is very inspiring to me," she said.
Many of Spring-Green's green industry franchise owners—those who own landscape, hardscape, pest control or other green industry businesses in addition to a Spring-Green franchise—site the company's industry-leading marketing and technology as a one of the main reasons they considered diversifying with Spring-Green. "Because of the marketing programs offered by the support center, our franchise grew between 200 to 300 percent this year," said Travis Snead, franchise owner in the Wilmington, North Carolina area.
"We look forward to Nonna applying her excellence and experience in the areas of customer acquisition and retention, as well as in defining the ideal digital and customer experience to grow sales and reduce operating costs, to our mission," said James Young, Spring-Green president. "Nonna has a strong comfort level with understanding and deploying new technologies, as well as an understanding of the service industry, that we think will prove invaluable to Spring-Green."
About Spring-Green Lawn Care
Founded in 1977, Plainfield, Illinois-based Spring-Green Lawn Care has been delivering lawn and tree care services nationwide for over 38 years. Its service is centered on the beautification of residential and commercial customers in middle-class and affluent neighborhoods and communities. Spring-Green is an attractive opportunity for entrepreneurs and existing green industry business owners who want to align themselves with a business model that has proven economic resilience, healthy profit margins, industry leading business and marketing intelligence, recurring revenue and retirement and succession planning. For more information, visit http://www.springgreenfranchise.com.