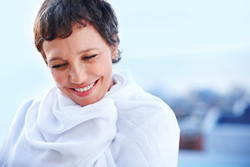 The treatment is an excellent non-hormonal therapy for women in menopause, and being treated for breast cancer that want to enjoy pain free intercourse.
Philadelphia, PA (PRWEB) September 29, 2015
Dr. Paul Gittens introduces the Mona Lisa Touch laser to his state-of-the-art sexual medicine practice in Philadelphia Pennsylvania. The Mona Lisa is designed for the treatment of vaginal health problems caused by menopause, breast cancer therapy, or chemotherapy. The Mona Lisa targets the symptoms of pain with intercourse, vaginal dryness, itchiness, and urinary tract infections.
Over forty percent of women with menopause and ninety percent of women being treated for breast cancer have problems associated with sexual dysfunction and compromised vaginal health. The treatment option of hormonal therapy may not be acceptable for many women, and lubricants can be messy and not effective. This treatment has revolutionized the way we improve vaginal health, it is non-hormonal and safe. The treatment is performed in the office without pain or side effects. The Mona Lisa Touch introduces fractional C02 laser energy into the vaginal wall causing revitalization and rejuvenation of the tissue, promoting lubrication and a more physiologic pH, leading to a healthier vagina and pain free intercourse.
Paul R. Gittens, MD, FACS, is board certified and is the medical director of PCSM. Previously, he was an assistant professor in the department of ob-gyn and urology, and the director of sexual dysfunction, male fertility and andrology at Albert Einstein College of Medicine in New York City. Philadelphia Center for Sexual Medicine is the only center in the region focused exclusively on the sexual health of women and men. The practice is patient centered with its back bone being expert care, patient comfort, and extraordinary service. He has a dedicated sex-after-cancer program that is focused on women experiencing the sexual side effects of cancer and its treatments. He also treats women for postmenopausal problems such as pain with intercourse, problems with orgasms and decreased libido.
For more information on Dr. Gittens and the Philadelphia Center for Sexual Medicine call 610-668-8300 or visit http://www.philadelphiasexualmedicine.com.