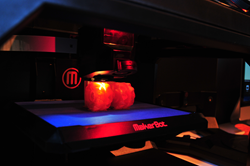 The TCT show floor has become the benchmark against which other shows are measured, and the conference stage attracts the biggest names in the industry year-on-year. To have all of this available free for visitors is an unparalleled achievement
Chester, Cheshire (PRWEB UK) 18 September 2015
As the world's largest and most comprehensive dedicated 3D technologies event, the TCT show floor really is the only place to be in September, as the biggest players in the 3D printing industry come out in force to demonstrate their full range of capabilities. The biggest names in 3D printing — including industry champions Stratasys, EOS, EnvisionTEC, Renishaw, Materialise, SLM Solutions, Autodesk, Arcam, citim GmbH, Declam, ExOne, Höganäs, Proto Labs, Mcor, Makerbot, Roland DG, 3D Systems, DSM Somos, and Ultimaker — will all be present at TCT Show, bringing together the largest number of additive manufacturing technology manufacturers in one place. This year, TCT also boasts over 60 brand new exhibitors that have never before shown their products to a TCT audience. For a full list of exhibitors, click here.
The newest and freshest talent of 3D printing can be explored in the Start Up Zone and through the TCT Introducing stage — an opportunity to see the very latest product launches from both first-time exhibitors and returning companies with something new to unveil. For the maker community, TCT welcomes back the RepRap Hub, a renowned hotbed for sharing ideas and making connections.
In the main conference arena, keynotes will kick off morning and afternoon sessions on both days of the show including: Al Siblani, CEO, EnvisionTec; J. Scott Schiller, Worldwide Director of 3D Printing, HP; Andy Middleton, President EMEA, Stratasys; Max Lobovsky, Founder & CEO, Formlabs; Dr Conor MacCormack, Co-founder and CEO, Mcor Technologies; and finally, Todd Grimm, President, T.A. Grimm & Associates.
The rest of the sessions will cover the myriad applications of 3D technologies across a diverse range of industries. Day one features sessions focusing on Design, Prototyping and Manufacturing looking at the processes themselves; Day two will then cover applications of the technologies in the Transport, Healthcare, and Jewellery & Heritage sectors. For the full list of confirmed speakers, click here.
The Technology Stage will feature a host of interesting and informative seminar sessions carefully crafted to educate both new and experienced users of 3D technologies. The ever-popular Introduction to Additive Technologies session will return to the show as well as industry-focused sessions on software, inspection, digitising and metrology. A new session for 2015 called Introducing the UL AM Training Curriculum will look at training standards in the 3D printing sector.
Finally, making a welcome return to TCT Show will be TCT Inspired Minds in association with Black Country Atelier and 3D Systems, giving schoolchildren the chance to get hands-on 3D printing experience.
Head of Content at TCT, James Woodcock, said: "The 20th anniversary edition of TCT Show + Personalize was always going to be special and the whole team is exceptionally proud of the event we've put together for 2015. The TCT show floor has become the benchmark against which other shows are measured, and the conference stage attracts the biggest names in the industry year-on-year. To have all of this available free for visitors is an unparalleled achievement. We've seen an incredible evolution of 3D technologies in the last few years but TCT Show remains the very best place to see everything together under one roof."
TCT Show + Personalize 2015 takes place at the NEC, Birmingham, UK on September 30th to October 1st 2015.
Editors' Note:
The name 'TCT Show + Personalize' should be referenced in full at the first mention, thereafter please use 'TCT Show' to refer to the event.
About TCT Show + Personalize
TCT Show + Personalize is the leading event dedicated to 3D printing, additive manufacturing and product development, owned and organised by Rapid News Communications Group (RNCG). Held annually, TCT showcases almost 200 exhibitors and presents a line up of internationally recognised speakers who shine the spotlight on the technologies and signpost how they will develop in the future. In 2015 almost 10,000 attendees from over 50 countries will visit TCT for inspiration, education and most importantly to do business. The mix of inspirational speakers, cutting edge technologies and innovative initiatives such as Inspired Minds, the Startup Zone and the RepRap Hub — all accessible with no entrance fees for attendees — is unique. As a result TCT attracts business leaders, early adopters and a wide range of users from across concept, design and manufacturing to an event where they can see tomorrow's technology today. Follow TCT online at http://www.tctshow.com and through social media.