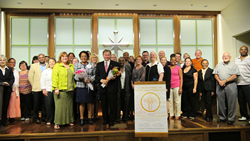 to help on a volunteer basis by restoring purpose, truth and spiritual values to the lives of others
Los Angeles, CA (PRWEB) September 17, 2015
The World Humanitarian Day open house and forum at the Church of Scientology of Sacramento honored "those who face danger and adversity in order to help others."
The master of ceremonies and host was Church Public Relations Officer Linda Smith. She began with an overview of the Church's Volunteer Ministers program, created in the mid-1970s by Scientology Founder L. Ron Hubbard with the mandate to help "on a volunteer basis by restoring purpose, truth and spiritual values to the lives of others." Mr. Hubbard described the Volunteer Minister as a person who "does not shut his eyes to the pain, evil and injustice of existence."
She presented an overview of the program including the work Volunteer Ministers do in their own communities and in responding to natural and man-made disasters in distant lands such as this year's Volunteer Ministers Nepal Disaster Response after that country suffered devastating earthquakes and aftershocks in April and May.
Smith then introduced Rev. Alice Baber Banks of the Christian Fellowship Ministry, founding member of the Birthing Project and recipient of the Harriet Tubman Award, the NAACP Achievement Award and the Interfaith Council of Greater Sacramento Power of One Award; and Dr. Florin Ciuriuc, Director of Public and Diplomatic Affairs for the nonprofit Ukraine Relief and Executive Director of the Slavic Community Center of Sacramento—both groups dedicated to humanitarian programs that help others at home and abroad.
Rev. Baber Banks spoke of the local meals on wheels program as an example of caring for the underserved of Sacramento, and of the vital importance of the community stepping up to care for such needs.
Dr. Ciuriucis spoke of his time in Communist Russia: a political prisoner at the time, after he heard President Ronald Reagan's speech at the Berlin Wall urging then-Soviet leader Mikhail Gorbachev to "tear down this wall," Dr. Ciuriucis escaped and fled to the United States. He spoke of his own experience providing humanitarian relief and of his appreciation of the U.S. and the aid it provides around the world.
Commemorating the UN day created in 2008, the World Humanitarian Day forum and open house was part of an ongoing program to provide a voice to Sacramentans who make a positive impact on the community and the world. It was one of a series of open house programs designed to bring the community together in the name of help.
The Church of Scientology of Sacramento is an Ideal Scientology Organization. Its facilities are configured to service Scientologists in their ascent to spiritual freedom and serve as a home for the entire community—a meeting ground of cooperative effort to uplift citizens of all denominations.
The Scientology religion was founded by author and philosopher L. Ron Hubbard. The first Church of Scientology was formed in Los Angeles in 1954 and the religion has expanded to more than 11,000 Churches, Missions and affiliated groups, with millions of members in 167 countries. Learn more about Scientology at http://www.Scientology.org