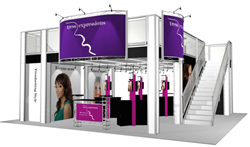 The companies with the largest booths are always perceived to be the industry leaders
Del Mar, CA (PRWEB) September 22, 2015
Iconic Displays is pleased to announce the new Hi-Rise© double deck trade show displays. These elegant truss based double-deck displays are available both as turnkey rentals and for purchase, and provide a truly standout display system. Iconic Hi-Rise double deck displays are high impact, highly visual display systems that position a company as an industry leader. The Hi-Rise double deck exhibit system provides an upstairs conference area for private meetings while also providing double height branding and graphics areas to help ensure that the Exhibitor's branding and messaging can be seen throughout the exhibit hall.
According to Mike Weimar, President of Iconic Displays, these systems provide an opportunity for a company to position itself as an industry leader. "When you enter a large exhibit hall, your eyes are instantly drawn to the tallest booth system in the hall". "The companies with the largest booths are always perceived to be the industry leaders" says Mr. Weimar.
Iconic Displays is unique in offering pre-configured double decker booth systems and offering these displays as turnkey rentals. The hassle-free turnkey display rental program includes shipping, booth assembly including graphics installation, post-show dismantle and packaging, and return shipping. With this program an exhibitor is able to focus on their important trade show marketing programs, customer interactions, and staff management.
Iconic Displays' double deck truss systems have been used at trade shows by leading companies in a variety of industries. The turnkey program includes engineering drawings as needed and Iconic Displays will work with the show management and facility managers to gain any engineering approvals required for installation of a two story booth structure. Iconic Display's management of the two-story signoff process can also save considerable time and effort for an exhibitor.
The Hi-Rise truss display lineup includes booth sizes of 10x20, 20x20, 20x30, 30x30 and larger. Iconic Displays also offers zero cost custom design services to create a Hi-Rise booth system to meet a customer's specific needs. For more information on Iconic Display's new line of Hi-Rise double deck displays or to rent a trade show display please go to http://www.iconicdisplays.com/Double-Deck-Displays.html or call 1-888-331-4260.