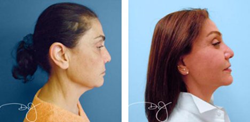 ...If the right kind of plastic surgery can help patients feel better about their working lives, then Dr. J says he is happy to help when possible
Los Angeles, CA (PRWEB) September 18, 2015
A September 17 article on Stuff.co.nz chronicles a U.S. phenomenon in which workers born during the 1950s peak of the baby boom, and now nearing traditional retirement age, believe they are extending their working lives by obtaining plastic surgeries that make them look younger. Payam Jarrah-Nejad, M.D., F.I.C.S., F.A.C.S., known more familiarly as Dr. J, has performed numerous surgeries on patients of all ages, and he says that the article jibes with what he's hearing in his office. The doctor says that his patients tell him that his procedures make a real difference in how they are perceived, and they truly believe that his work is extending the length of their active working lives.
While the Stuff.co.nz article gives the example of a lawyer who claims juries respond more positively to her new, younger appearance, Dr. J notes that ageism is pervasive in all fields, though it is perhaps even more of a factor in the media and in high-tech. While the public typically thinks of actors, musicians, and reality TV stars getting procedures, Dr. J notes that the media's youth-consciousness extends to many industry veterans who never step in front of a camera. Hollywood, he notes, is constantly looking for young talent to relate to a young audience, so writers, filmmakers, composers – even executives, agents and lawyers – may find that their help is less in demand if they are perceived as aging and "out of touch" with young audiences.
Dr. J notes that the procedures most popular with the baby boomer cohort include a facelift procedure to remove wrinkles, eyelid lifts to defeat baggy eyes and, sometimes, liposuction to maintain a more youthful physique. He also says that some canny patients are opting for rhinoplasty. Even though the size and shape of a nose are not typically associated with aging, the fact of the matter is that our noses continue to grow larger as we age. Therefore, reducing the size of the nose to a certain degree may also subtly alter the perception of age in a patient, notes Dr. J.
While most of us agree that ageism in the workplace is an unfortunate and wrong, Dr. J. notes that it remains a reality that is unlikely to change anytime soon. At the same time, it's entirely laudable and often practically necessary for older workers to remain on the job and, if the right kind of plastic surgery can help patients feel better about their working lives, then Dr. J says he is happy to help when possible. For more information visit the Dr. J Plastic Surgery Facebook page or call Dr. J at 310-993-3800. Interested readers may also visit http://www.DrJPlasticSurgery.com, the doctor's web site.