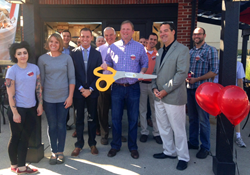 Our Upper Arlington coffee house offers the community a comfortable place to meet and relax while enjoying awesome espresso, pour-over and cold-brew coffee. - Greg Ubert
(PRWEB) September 18, 2015
Columbus, Ohio coffee roaster Crimson Cup Coffee & Tea marked the grand opening of its Crimson Cup Coffee House at 2468 Northwest Blvd. in Upper Arlington on Wednesday, September 16. The day-long celebration featured $1 drink specials, a ribbon-cutting ceremony with the Upper Arlington Chamber of Commerce, face painting, a balloon artist and music from many local coffee house barista talents.
"Coffee + community is our motto at Crimson Cup, and I'm extremely proud to bring a deeper coffee experience to my hometown community," said Founder and President Greg Ubert, who lives in Upper Arlington with wife Laura and their three children. "Our Upper Arlington coffee house offers the community a comfortable place to meet and relax while enjoying awesome espresso, pour-over and cold-brew coffee."
The day's events focused on the slow enjoyment of coffee, highlighting Crimson Cup's latest brew bar coffees –Ethiopian Natural Sidamo Ardi, Ethiopian Sidama Guji and Ethiopian Yirg Z (Yirgacheffe) – and Nitro cold brews.
In addition to catering to Columbus coffee lovers, both of Crimson Cup's Columbus coffee houses serve as test kitchens for the company's Seven Steps to Success coffee franchise alternative program. Crimson Cup's innovation team tests new drink concepts, training methods, marketing programs and other advances for use by the roaster's community of independent coffee houses.
Based on Ubert's book, Seven Steps to Success in the Specialty Coffee Industry, this proven program teaches prospective business owners everything they need to operate a thriving coffee shop. It includes a coffee shop business plan template as well as guidance in everything from choosing a location and buying equipment to hiring and training staff, attracting customers and more.
Using this proven system, Crimson Cup has helped create hundreds of independent coffee houses in 29 states. A dozen new coffee shops in eight states joined the Crimson Cup community in 2014, and at least 14 more plan to open in 2015.
About Crimson Cup Coffee & Tea
Founded in 1991, Crimson Cup Coffee & Tea is a leading Columbus, Ohio coffee roaster offering handcrafted, sustainably sourced specialty coffee. The company also teaches entrepreneurs to run successful coffee houses through its coffee franchise alternative program, which includes a coffee shop business plan. Crimson Cup coffee is available through a community of more than 350 independent coffee houses, grocers, college and universities, restaurants and food service operations across 29 states, Guam and Bangladesh, as well as the company's own Crimson Cup Coffee Houses. To learn more, visit crimsoncup.com.