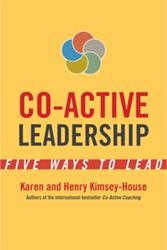 This multidimensional model encourages everyone to be a leader at any level, in every life situation.
San Rafael, California (PRWEB) September 21, 2015
In a rapidly changing world, styles, phrases, and technology are quickly outdated. Why would leadership strategies be any different? Karen and Henry Kimsey-House have observed the wasted leadership ability that is present throughout an organization, and have announced the launch of a visionary new book titled "Co-Active Leadership: Five Ways to Lead." In this book, the Kimsey-Houses, cofounders and co-CEOs of CTI—a global coach training and leadership development company—provide a model that harnesses the possibility of many leaders rather than relying on the power of one. This multidimensional model encourages everyone to be a leader at any level, in every life situation.
Available now on Amazon.com, 800ceoread.com, BarnesandNoble.com, and HudsonBooksellers.com, Karen and Henry Kimsey-House share a revolutionary multi-dimensional model that recognizes the need for leadership to be fluid and flexible. Co-Active Leadership capitalizes on each person's expertise and allows collaborative solutions to emerge that would never have been possible otherwise.
"Co-Active Leadership is a deeply collaborative approach, but the first of its five dimensions focuses on the individual: leading from within," shares Karen Kimsey-House. "We must live lives of integrity, open heartedness, and self-awareness if we want to make the kind of conscious, creative choices that Co-Active Leadership demands. Each of the remaining four dimensions works together. Depending on the situation, you may lead from the front, offering guidance and inspiration; from behind, supporting and encouraging others; from beside, partnering with and supporting other members of your team; or from the field, drawing on insights and wisdom available beyond the rational mind."
Praise for "Co-Active Leadership" has been abundant:

Bill Twist, cofounder and CEO of Pachamama Alliance, says, "The Co-Active Leadership Model has been a powerful tool in the transformation of our organization from a more traditional structure to one of shared leadership where everyone feels a sense of responsibility for the whole. It's been a remarkable shift, and I would recommend this book highly to anyone seeking to enhance participation, unleash creativity, and foster organizational change."
Dave Logan, New York Times bestselling coauthor and faculty member of USC Marshall School of Business, wrote, "You should get this book, read it, and do what it says. Karen and Henry wrote the book on coaching, and this current work extends their thinking and research into leadership. Great leaders are almost always great coaches, so this is a chance to learn from the masters."
Chip Conley, New York Times bestselling author and founder of Joie de Vivre Hotels and Head of Global Hospitality and Strategy at Airbnb, shares, "Co-Active Leadership forces you to re-evaluate what's important at work and at home and provides an invaluable tool for those with a strong desire to lead at any level—in every life situation."
Kevin Cashman, bestselling author and Senior Partner/CEO and Executive Development at Korn Ferry, writes, "Karen and Henry Kimsey-House give us the framework and tools we all need to co-create a better world together! They get it right again: our ever-complex world needs new multidimensional ways to be even more responsive and purposeful as we create life-enriching futures. Get this book and use it!"
Frederic Laloux, author of Reinventing Organizations, says, "Leadership books invariably come with the hidden promise that you'll get other people to do what you want them to do so that you can rise above the pack. Here is a leadership book that comes from a deeper place! It starts with Karen and Henry's groundbreaking definition of leadership: leaders are those who 'take responsibility for their world.' Now, that is a great place to start!"
"Co-Active Leadership" includes 9 chapters with titles like "Co-Active Leader Beside," "The Dance of the Dimensions," and "The Good Life." For more information on "Co-Active Leadership" (including a free sample chapter, details on Karen & Henry, advanced praise, press coverage, and purchasing information), visit http://www.thecoaches.com.
About the Authors
Henry and Karen Kimsey-House have always been fascinated with people. Through their pioneering work in coaching, and their practical experience leading hundreds of leadership programs, they have inspired thousands to generate full self-expression, a deep sense of interconnectedness, and an ability to be responsible for their world.
In 1992, Henry and Karen met and co-founded the Coaches Training Institute (CTI) along with their partner, Laura Whitworth. Henry and Karen have now been married for 20 years, and CTI is now a global coaching and leadership development organization offering programs in 18 different countries.
More than 4,000 people have completed the Co-Active Leadership Program and are bringing Co-Active Leadership principles to organizations, governmental agencies, educational settings, nonprofits, coaching clients, and families around the world.
Co-Active Leadership: Five Ways to Lead
By Karen & Henry Kimsey-House
Berrett-Koehler Publishers
September 2015
Paperback, $17.95; 128 pages
978-1626564565
Contact: Paula Adam
Phone: (419) 270-1376
Email: pjadam(at)weavinginfluence(dot)com