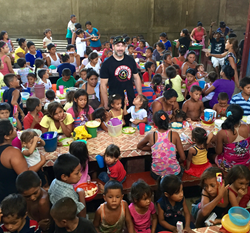 "We are committed to partnering with our clients on many levels and this service venture has been one of the most satisfying" - Krishna Pillai, COO
Sonoma, CA (PRWEB) September 22, 2015
Convergent Mobile's senior management, select employees and family members from around the nation gathered in Nicaragua for a week of work in a variety of capacities throughout the western region of the country. Leading the trip was Chuck Lovelace, president of the charity and Vice President of ACA at Liberty Tax.
The Convergent team travelled to four feeding centers, distributing food, working in kitchens, and providing general support for the children of these remote villages. The company also donated and distributed toothbrushes, toothpaste, soap, bowls, plates, cups and soccer balls in each village.
"At Convergent Mobile, service is more than a simple responsibility to our clients -- it's the focus of everything we do and it's what sets us apart from others," said Mickey Breen, Convergent Mobile's CEO. "Having the opportunity to participate this year has been a high point for us both personally and professionally." Krishna Pillai, COO stated, "We are committed to partnering with our clients on many levels and this service venture has been one of the most satisfying".
Run for Food International (RFFI) is a nonprofit organization that is focused on finding innovative and sustainable solutions that will end world hunger. The charity was founded by John Hewitt, founder of Liberty Tax Service in 2011 and has been actively engaged throughout Nicaragua. According to RFFI, Nicaragua remains the poorest Spanish speaking country in the world with over 2 million people living in poverty.
More information about RFFI can be found at http://www.runforfoodinternational.org.
About Convergent Mobile: Founded in 2007, Convergent Mobile is headquartered in Sonoma, California with offices in Washington, DC & Kansas City. Convergent Mobile offers enterprise level mobile-based solutions that corporate clients, franchise groups or ad agencies can utilize to leverage the increasing importance of mobile. Convergent Mobile provides SMS-based marketing & operations platforms, listing management and online scheduling systems.