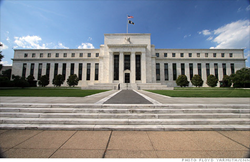 The Federal Savings Bank reminds prospects that while rates are low, home prices are rising
Chicago, IL (PRWEB) September 17, 2015
Lenders like The Federal Savings Bank were pleased to comfort their prospective mortgage applicants that mortgage rates will not shift higher overnight.
The Federal Reserve decided today to leave interest rates unchanged in its goal of continuing to stimulate the economy. The Board of Governors report on September 17th stated a "continued progress toward maximum employment and price stability, the Committee today reaffirmed its view that the current 0 to 1/4 percent target range for the federal funds rate remains appropriate." This decision comes in the wake of a recent stock market correction. On the whole the Federal Reserve release stated "Household spending and business fixed investment have been increasing moderately, and the housing sector has improved further; however, net exports have been soft. The labor market continued to improve, with solid job gains and declining unemployment."
This was great news for mortgage applicants since it removed any worries that mortgage rates may instantly shift higher on Friday morning. The current environment of low mortgage rates has been very lucrative for investors purchasing income producing properties and rewarding for first-time home buyers who have managed to save money to place as a down payment on an affordable home loan.
As average 30-year fixed loan rates closed at 3.98% on Thursday, it's obvious that The Federal Reserve hopes more American's will take advantage of the current lending environment since it is very affordable. The Federal Savings Bank reminds prospects that while rates are low, home prices are rising due to limited supply and high demand. Thus, while the rate on home loans may remain low and affordable, the prices of homes are increasing, and this is expected to continue.
Contact The Federal Savings Bank, A Veteran Owned Bank, To Learn More About Mortgages.