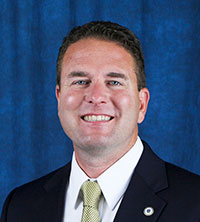 I am honored to be on the Board of Directors for Special Operations Bionic Warriors. Military veterans are one of this country's greatest resources, and I'm happy to have the opportunity to give back to my military brothers and sisters. - James Shiver
Cypress, CA (PRWEB) September 18, 2015
James Shiver, who currently serves as Regional Manager of Strategic Military and Community Relations for Trident University International (Trident), has been named to the Board of Directors for Special Operations Bionic Warriors (SOBW), an organization that assists significantly injured veterans and current members of the military.
Shiver has over two decades of military experience in health care administration, clinical services, project management, and recruiting in the U.S. Army, retiring as a First Sergeant. He has also worked with disabled veterans and transitioning service members through the Army Medical Department, United States Olympic Committee, and various volunteer organizations including the Wiregrass Wounded Veterans Committee and Team Red, White, and Blue.
Shiver holds a Bachelor of Science in Health Sciences from Trident, graduating summa cum laude.
"I am honored to be on the Board of Directors for Special Operations Bionic Warriors. Military veterans are one of this country's greatest resources, and I'm happy to have the opportunity to give back to my military brothers and sisters," says James Shiver.
SOBW is a non-profit organization that improves the lives of wounded warriors through physical activity. The organization currently assists a growing population of 226 athletes who participate in recreational and adventure sports, as well as local, regional, national, and Paralympic-level competitive events. Those athletes who meet or exceed Paralympic standards in their chosen sport are offered an opportunity to vie for a spot on the U.S. Paralympic Team.
Trident University, a leading 100% online post-secondary institution that offers degrees at the bachelor's, master's, and doctorate levels, is committed to its community of adult learners and over 28,000 alumni. Founded in 1998, the University is regionally accredited by the Western Association of Schools and Colleges (WASC) Senior College and University Commission.
For any media inquiries, please contact Daniel Sloan at daniel.sloan(at)trident(dot)edu.
About Trident University
Founded in 1998, Trident University International (Trident) is a leading online postsecondary university serving adult learners. Trident developed the Trident Learning Model, which employs case-based learning in an online setting to teach real-world relevant critical thinking skills to enhance the lives and careers of students. Trident offers high-quality bachelor's, master's, and doctoral degree programs, led by a qualified faculty team, over 80% of who have doctoral degrees. Visit http://www.trident.edu, Trident's Facebook page, or call at (855) 290-0290 to learn more about Trident's wide range of bachelor's, master's, and doctoral programs.