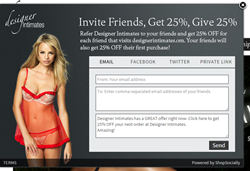 ShopSocially's solutions have helped us engage our site visitors and brought remarkable results within a short span of time. - Designer Intimates Team
Santa Clara, CA (PRWEB) September 21, 2015
Designer Intimates, an exclusive eshop for lingerie brands such as Felina, Jezebel and Paramour provides a unique share & shop system that allows visitors to receive high discounts on items shared via social media. The leading lingerie brand wanted to engage its site visitors and convert them into brand ambassadors. To achieve this, Designer Intimates enabled ShopSocially's Refer-a-Friend app on its website. Referral traffic generated through this solution converted at a high rate of 12.68%.
"We are building Designer Intimates as the exclusive destination that offers the best deals on designer lingerie. ShopSocially's solutions have helped us engage our site visitors and brought remarkable results within a short span of time." commented the team at Designer Intimates.
ShopSocially's Refer-a-Friend app was strategically embedded on the Designer Intimates website. The app was customized according to Designer Intimates brand guidelines. It was designed to grabb user attention immediately when they land on the site. Using this app, Designer Intimates converted its site visitors into brand ambassadors.
Refer-a-Friend app encourages visitors to refer their friends and family to visit the site. As referred friends purchase from the site, referrers are awarded with an attractive incentive of 25% discount on all products. The incentive motivates visitors to participate in the referral program and helps in driving brand recommendations for Designer Intimates. A unique feature of the app is to allow the brand advocates to share personalized referral messages with their social circles. The ability to capture the attention of site visitors and the virality of social media in driving referrals has helped Designer Intimates to achieve an impressive sales conversion rate of 12.68%.
Together with ShopSocially's referral program, Designer Intimates is also using ShopSocially's Photomonial app. The app is helping them aggregate customer photos tagged with their brand hashtag from social media channels like Facebook, Instagram and Twitter and showcase them on their website in an attractive gallery. These photos acts as social proof on the website and helps improve overall conversion and discovery of the website.
"Your website visitors are your biggest source for generating referrals for your business. Targeting the right people at the right place with the right offer determines the success of a referral program. " commented Samir Palnitkar, President at ShopSocially."We are excited to see the sales boost that Designer Intimates is getting through ShopSocially's Refer-a-Friend app."
About Designer Intimates
Designer Intimates, exclusive destination for lingerie offers amazing deals on designer lingerie from different brands including Felina, Jezebel and Paramour. Designer Intimates is a unique share & shop system that allows visitors to receive high discounts on items shared via social media. Designer Intimates mission is to offer the greatest deals to loyal customers and brand ambassadors and become the number 1 destination for lingerie online. For more details visit designerintimates.com
About ShopSocially
ShopSocially is a premium, social, referral and loyalty platform for marketers. Leading brands like Crabtree & Evelyn, Zazzle, Zipcar, ULTA, Beretta, Dressbarn etc. are using the ShopSocially platform to enable referral marketing, visual commerce, customer loyalty, social login, social gamification and other such programs on their site.
ShopSocially has been consistently driving word-of-mouth promotions via social for 1000s of brands and delivering positive social ROI for their social media efforts.
ShopSocially has won several awards and has also been featured by Facebook in a Social Commerce case study. Launched in Oct 2010, ShopSocially is a privately held company in Mountain View, CA. For contact information, please visit http://shopsocially.com/platform/request-a-demo.html.