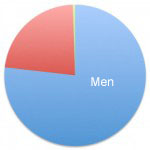 (PRWEB) September 19, 2015
When it comes to the risk of HIV/AIDS, there is little documentary evidence to establish the incidence of female-to-female transmission of the HIV virus, though doctors and healthcare experts don't rule out the possibility of the virus being transmitted through menstrual blood or vaginal secretions. However, statistics released on September 15, 2015 by PositiveSingles.com, the world's largest dating site for people with herpes, HIV, HPV and other STDs, prove that men are more likely to get infected by the HIV virus than women. The trends have been deduced on the basis of membership figures registered on the site.
According to Positive Singles official site, the website has a total of 159,532 HIV positive members, of which 122,545 are men, 36,159 are women, while the remaining 828 are couples. Similarly, of the total HIV positive members on the website, 76,696 are straight men and women, 76,818 are gays, 1,728 are lesbians, while the remaining 4,290 are bisexual men and women. These figures clearly show that both straight men and gays are at a greater risk of contracting the HIV virus than females.
For well over a decade, PositiveSingles.com has been helping people with STDs find love and support. In figures released by the website recently, the site currently boasts of a whopping 980,000 members, of which 55.29% are living with herpes. Thus the site is voted to be the best dating site for people with herpes by sites that give herpes dating site reviews.
About PositiveSingles.com
PositiveSingles.com is an online dating and support community for people affected by various STDs such as Herpes, HPV, and HIV/AIDS. The focus of the site is to bring together like-minded people and help them find companionship, support and love.