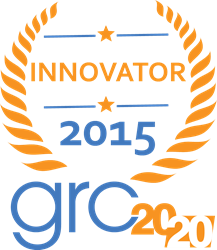 Rivo has demonstrated GRC innovation in EH&S Management by delivering an excellent user experience.
Stratford, CT (PRWEB) September 23, 2015
Rivo, a world leader in environmental, health, safety and operational risk management cloud software solutions, today announced that it has been honoured with a 2015 GRC Innovation Award in EH&S Management by GRC analyst firm GRC 20/20. The 4th annual GRC Innovation Awards recognize technology and user experience in Governance, Risk Management and Compliance programs and processes.
Solution providers and GRC practitioners were evaluated across 15 categories, including IT GRC, Third Party Management, Policy & Training Management, Quality Management, EH&S, Risk Management and Audit Management. The full list with categories and award recipients can be found on the GRC 20/20 blog. Out of a total of 119 nominations, Rivo was selected the winner in the EH&S Management Category for User Interface & Experience.
Rivo was granted the award based on its mobile and offline incident reporting and management capabilities which combines the use of latest technology with a straightforward user interface resulting in more accurate incident reporting, faster follow-up and improved risk mitigation.
Chris Noblet, Rivo CEO commented: "This award is a great recognition of our continued investment in technology and in providing the best possible user experience. It is our mission to break down barriers in incident and risk reporting by making Rivo easily accessible to anyone, anywhere on any device."
Kevin Finlay, Rivo VP of Sales Americas, added: "When we look at the US market, a lot of our customers are spread across multiple and occasionally very remote locations. Easy access to report incidents and instant workflow and reporting functionality are invaluable tools for EH&S managers to be able to be instantly informed, provide accurate and timely follow-up and move to a pro-active approach to EH&S. This award is a great recognition of our vision and efforts in these areas."
"Rivo has demonstrated GRC innovation in EH&S Management by delivering an excellent user experience," said Michael Rasmussen, Chief GRC Pundit for GRC 20/20 and internationally recognized expert. "It is imperative that we recognize today's successes as a milestone toward advancing GRC maturity. In achieving maturity, GRC is part of the organization's strategy and operations and supported by a range of technology, knowledge and services - enabling the organization to achieve greater efficiency, effectiveness, and agility in GRC processes and broader business operations."
About Rivo
At Rivo, we've built market leading applications that transform how EHS and risk is managed. No matter the size of your organization, how many sites you have, or where they're located, our apps will help you automate repeatable tasks, engage your employees and deliver razor sharp insight. We have over 180 clients across 86 countries, and our apps help them protect people, assets, environment and profits in their companies.
Rivo is recognized in the Gartner Magic Quadrant for Operational Risk Management, the Gartner Magic Quadrant for Environmental, Health and Safety Management Systems and is a Red Herring Top 100 Winner for disruptive software.
About GRC 20/20
GRC 20/20 is the authority in understanding how organizations implement GRC practices that are effective, efficient and agile. Through independent research and industry interaction, GRC 20/20 advises the entire ecosystem of GRC roles within organizations, technology and knowledge solution providers, and professional service firms. Organizations engage GRC 20/20 when they need insight, guidance and advice in dealing with a dizzying array of disruptive issues, challenges, processes, information and technologies while trying to maintain control of a distributed and dynamic business environment. Visit GRC 20/20 at http://www.grc2020.com/ and follow on Twitter at @GRCPundit.