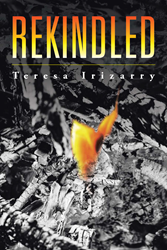 The test of toleration does not come until you have the power to be intolerant, and must choose not to be so.
TEMPE, Ariz. (PRWEB) September 22, 2015
"Those who cannot remember the past are condemned to repeat it," philosopher George Santayana.
Historical fiction "Rekindled" by Teresa Irizarry is a thought provoking, in-depth expose on Roger Williams' journey across the Atlantic to settle Rhode Island in the early 1630s. This new book documents Williams' brave efforts, which ultimately led toward the separation of church and state for our nation.
"Rekindled" recounts the story of a few seemingly powerless boys, who grow up to challenge authority structures on both sides of the Atlantic. The struggles with power, greed and religious intolerance outlined in this new book mirror some of the larger issues we as a society still face today.
Irizarry's background in engineering and root cause analysis informed the research with a fresh perspective on this episode in history. She considered the impacts of weather, disease and family/tribal matters that took place alongside the traditional political story.
"Rekindled" is written in modern language for universal understanding and enjoyment. Irizarry's ultimate hope is that audiences will absorb Williams' attitude of respect for heartfelt consciences different from their own.
Irizarry claims Williams lives out the principle that, "The test of toleration does not come until you have the power to be intolerant, and must choose not to be so."
For more information visit the author's website, http://www.rekindled.info/.
"Rekindled" By Teresa Irizarry
Hardcover, $35.99
Paperback, $14.95
ISBN: 978-1-50491-124-5
Available at amazon.com, barnesandnoble.com and bookstore.authorhouse.com
###
About the author
Teresa Irizarry was born in Houston, Texas, and raised in Utah, Kansas, and Texas. She lives in New Jersey and Arizona. She trained to be a chemist until the last semester of undergraduate school, when she realized she would graduate more quickly with a degree in mathematics. Now she satisfies her chemical curiosity by cooking, sometimes to the chagrin of her children. For many years she worked as an engineer for a large corporation. During her career she met memorable, brilliant people from all over the world who were pursuing the American dream.