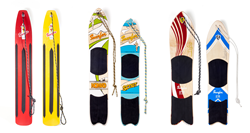 "With just a little snow and a little hill you can have some really big fun,"
Manchester Center, Vermont (PRWEB) September 23, 2015
Get ready to drop in on your favorite backyard hill this winter with a brand new Snurfer board, the original snow surfer. Reintroduced last year after a 30-year hiatus, Snurfer Boards return this year with five made-in-USA models for riders of all types and sizes.
Forget the expensive gear, lift tickets and travel expenses. Snurfer Boards are simple, durable, and tons of fun. Each board is crafted from the finest maple veneers available, right here in the USA. There's no metal rails, bindings or special boots to get in the way, just a unique on-snow riding experience where it is all about fun.
"With just a little snow and a little hill you can have some really big fun," according to Brew Moscarello, the founder of Balance Designs, Inc., the company behind the Snurfer's reintroduction. "Whether you are six or sixty, riding a Snurfer is just a blast," Moscarello added.
This year's Snurfer models include the Classic, a remake of the original Snurfer from the late 60's; the Nomad, a modern interpretation of the Classic with more flex and a bit more width; the Scout, a shorter version of the Nomad for riders under 100 pounds; the Drifter, a wider board for softer, deeper snow; and the Rambler, a shorter version of the Drifter, again for riders under 100 pounds.
With the cost of skiing and riding going through the roof, Snurfer Boards bring things back to reality with an economical way for everyone to have some winter fun without the need for batteries, internet, or an expensive lift ticket.
"The first Snurfer was invented 50 years ago and they became the foundation for the entire sport of snowboarding," said Moscarello. "With the Snurfer back, kids will have an easy way to learn how to slide sideways and experience the thrill of riding a snow covered hill," he added.
Snurfer Boards can be purchased on snurferboards.com or through fine sporting goods retailers. Whether you're gliding down a slope in the backyard or carving turns on an untamed mountain, the Snurfer is again redefining winter fun for everyone.
About Balance Designs, Inc.
Founded by Brew Moscarello in 1990, Balance Design, Inc. is dedicated to bringing the benefits of better balance to everyone through their Vew-Do Balance Boards and Snurfer Boards brands. Vew-Do has led the way for balance board and balance training products and continues to bring new products to market for rehabilitation, sports training, and most importantly, wholesome fun! Having their roots in snowboarding, they acquired the Snurfer brand trademarks in 2014 as a natural progression of their business and are now on a mission to get more people sliding sideways on snow-covered hills.