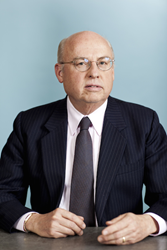 "I am proud of the work that Swords to Plowshares does on behalf of veterans, and am grateful to my firm for supporting those of us who assist in that work."
San Francisco, CA (PRWEB) September 18, 2015
Allan Jergesen, a partner in the San Francisco office of Hanson Bridgett, received the Bill Brockett Pro Bono Attorney of the Year Award on Thursday for his outstanding work with veterans.
Swords to Plowshares, a San Francisco-based veteran service agency, presented the award at a legal reception held at the law firm of Keker & Van Nest LLP in San Francisco. The annual award, given to a volunteer attorney for their outstanding service to veterans and dedication to Swords to Plowshares' Veterans Pro Bono Program, is named in memory of William "Bill" Brockett Jr., who founded Keker & Van Nest LLP along with John Keker.
"I am proud of the work that Swords to Plowshares does on behalf of veterans, and am grateful to my firm for supporting those of us who assist in that work," Jergesen said. "It gives us a tangible way to use our legal skills to assist this special class of citizens who have given so much on our behalf."
Having served as an active member on Swords to Plowshares' Pro Bono Advisory Board, Jergesen's involvement has led attorneys at his firm to dedicate pro bono hours to help veterans with disabilities obtain disability benefits through the Department of Veterans Affairs. Volunteer attorneys at Hanson Bridgett, including Jergesen, have staffed three legal clinics for veterans in the past year including the East Bay Stand Down, and the firm is providing full-scope representation to seven veteran clients.
A veteran himself who served in the U.S. Army from 1972 to 1973, Jergesen is currently representing a Vietnam veteran with an Agent Orange exposure claim.
"Allan has really been a champion for us at Hanson Bridgett, and thanks to their commitment we're seeing greater impact than ever before," said Swords to Plowshares Executive Director Blecker. "He's staffed multiple legal clinics, he took on a full-scope case, and he's making a real difference that's felt here at Swords, at Hanson Bridgett, and most importantly, by the veterans he's directly helping."
About Swords to Plowshares
Founded in 1974, Swords to Plowshares is a community-based not-for-profit organization that provides counseling and case management, employment and training, housing and legal assistance to homeless and low-income veterans in the San Francisco Bay Area. Swords to Plowshares promotes and protects the rights of veterans through advocacy, public education, and partnerships with local, state and national entities. Learn more about the work of Swords to Plowshares, and ways in which you can help, by visiting our website at http://www.stp-sf.org.
About Hanson Bridgett LLP
Founded in 1958, Hanson Bridgett has more than 150 attorneys located in offices in San Francisco, the North Bay, Sacramento and the East Bay. Our clients range from multinational Fortune 500 corporations to individuals, including a number of public agencies in California. More information on Hanson Bridgett and our commitment to the community can be found at http://www.hansonbridgett.com.
###