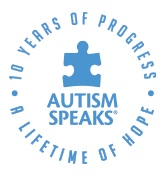 New York, N.Y. (PRWEB) September 18, 2015
Autism Speaks, the world's leading autism science and advocacy organization, today announced that U.S. Sen. Charles E. Schumer (D-NY) will be honored with a "Lifetime of Hope Award" for his public service on behalf of those with autism spectrum disorder. The award will be presented at Autism Speaks' annual Celebrity Chef Gala in New York City on Tuesday, October 13, 2015.
Sen. Schumer has been a committed advocate for families and individuals affected by autism. He co-sponsored the landmark Combating Autism Act of 2006 and its subsequent renewals. This federal legislation has provided more than $3 billion for autism research, services, training and monitoring by the National Institutes of Health, the Centers for Disease Control and Prevention, and the Health Resources and Services Administration. The legislation's most recent renewal in 2014, the Autism CARES Act, tasks the federal government with surveying gaps in services for young adults and transitioning youth with autism and developing proposals to effectively address their needs. Sen. Schumer also co-sponsored the Achieving a Better Life Experience Act (ABLE) of 2014 -– bipartisan legislation that allows for the creation of tax-free 529A accounts for people with disabilities, including autism, to save for their future needs without losing access to other resources. ABLE implementation is now underway at the state level.
Close to 50 percent of children with autism are prone to wandering from a safe place, making it a crisis for many families affected by the condition. In response, Sen. Schumer introduced "Avonte's Law" in June 2014, legislation that would allow local law enforcement agencies to apply for federal grants to fund voluntary locating devices, as well as training programs for first responders, school staff, clinicians and the public to help prevent wandering by children with autism and other disabilities. The bill is named in honor Avonte Oquendo, a 14-year-old New York City child with autism, who wandered out of his school and tragically died in a nearby river.
"Throughout his career in public service, Senator Schumer has been a strong and articulate voice for the well-being of children and families affected by autism in New York and across the country," said Autism Speaks President Liz Feld. "We have witnessed Senator Schumer's leadership firsthand on everything from his support of federal legislation for autism research to his efforts to address wandering in the autism community. This is a legacy that has brought hope to millions of families."
Autism Speaks' annual Celebrity Chef Gala, taking place at Cipriani Wall Street in New York City, is a one-of-kind culinary experience that will feature more than 100 of the world's finest chefs cooking tableside to help raise funds and awareness for the autism community. In addition to honoring Sen. Schumer, this year's event will commemorate the 10 years of progress since Suzanne and Bob Wright first co-founded Autism Speaks. For more information, visit http://www.autismspeaks.org/chefgala.
About Autism
Autism is a general term used to describe a group of complex developmental brain disorders – autism spectrum disorders – caused by a combination of genes and environmental influences. These disorders are characterized, in varying degrees, by communication difficulties, social and behavioral challenges, and repetitive behaviors. An estimated 1 in 68 children in the U.S. is on the autism spectrum.
About Autism Speaks
Autism Speaks is the world's leading autism science and advocacy organization. It is dedicated to funding research into the causes, prevention, treatments and a cure for autism; increasing awareness of autism spectrum disorders; and advocating for the needs of individuals with autism and their families. Autism Speaks was founded in February 2005 by Suzanne and Bob Wright, the grandparents of a child with autism. Mr. Wright is the former vice chairman of General Electric and chief executive officer of NBC and NBC Universal. Since its inception, Autism Speaks has committed $560 million to its mission, the majority in science and medical research. Each year, Walk Now for Autism Speaks events are held in nearly 100 cities across North America. On the global front, Autism Speaks has established partnerships in more than 70 countries on five continents to foster international research, services and awareness. To learn more about Autism Speaks, please visit AutismSpeaks.org.
###