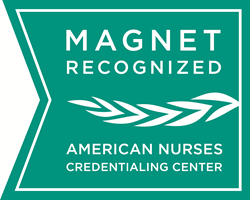 Peggy Gordin, MS, RN, NEA-BC, FAAN, vice president, Patient Care Services, says the honor reflects the caliber of the entire hospital. "I'm proud to work with such a great staff and leadership team here," she says. "This achievement followed an intensive
(PRWEB) September 20, 2015
St. Louis Children's Hospital earned a distinction that only about 100 hospitals worldwide have achieved -- its third consecutive Magnet® honor for nursing excellence. The announcement of the designation, from the American Nurses Credentialing Center® (ANCC) took place Aug. 19.
A select group of about 400 health care organizations out of nearly 6,000 U.S. health care organizations have received Magnet recognition.
Magnet hospitals must continue to achieve rigorous standards to earn another four-year designation. Such high standards enable a hospital, like a magnet, to attract and retain outstanding nurses, the ANCC reports.
Peggy Gordin, MS, RN, NEA-BC, FAAN, vice president, Patient Care Services, says the honor reflects the caliber of the entire hospital.
"I'm proud to work with such a great staff and leadership team here," she says. "This achievement followed an intensive two-year application and evaluation process. Everyone's hard work has paid off, and we are all excited to have that recognized. It says a lot about our efforts to deliver a superior patient experience to every patient, every family, every day."
ANCC recognized the hospital for outstanding progress in several areas including:

Community benefit such as summer camps and the Healthy Kids Express mobile health van program
Family-centered care, including extensive parental involvement in the perioperative area
Resources to meet the unique individual needs, such as interpretive services and the Family Resource Center
In addition, the hospital exceeded the national average for all five categories of a national nursing satisfaction survey.
The designation is for four years, 2015-2019.
"Being a Magnet hospital speaks to the high level of patient care, collaboration and professionalism of our entire organization," says Joan Magruder, SLCH president. "Magnet hospitals must meet high standards, such as having better patient outcomes and outstanding patient satisfaction. I'm proud of our team for earning this honor, and it inspires all of us to continue to strive to be even better."
SLCH employs more than 1,000 nurses in every pediatric medical and surgical specialty. Each year, about 275,000 patients visit the hospital. SLCH has served patients from all 50 states and nearly 60 countries.
SLCH's first Magnet designation, lasting four years, was awarded in 2005. Two other BJC hospitals, Barnes-Jewish Hospital and Boone Hospital Center, also have been redesignated as Magnet hospitals.
More about Magnet
The Magnet Recognition Program:

Was developed in 1994 by the ANCC, the largest nursing accrediting and credentialing organization in the United States
Recognizes hospitals that provide quality patient care, nursing excellence and innovations in professional nursing practice
Provides a forum for nurses around the nation to communicate successful practices and strategies