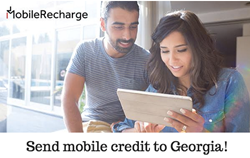 A great and fast way to send minutes to families and friends. I tried sending minutes for my mother. She texted me back saying that she received the minutes in less than 2 minutes. I'm very great fun of that site. (Rivka Louis on Trustpilot.com)
Atlanta, Georgia (PRWEB) September 20, 2015
MobileRecharge.com makes available top ups for Georgians worldwide willing to support their friends and family in Eastern Europe with mobile credit. They can now top up mobiles in Georgia in less than 1 minute using the simple online form on MobileRecharge.com.
http://mobilerecharge.com/
For the moment, top ups from abroad can be made to prepaid subscribers in Georgia who use:
-Beeline
-Magti
-My Phone
-Bani
-Bali
-Geocell
-Lailai
Georgia became a top up destination on MobileRecharge.com due to customer feedback. It was the expats who required a service to facilitate top ups from abroad to their native country, Georgia. They have the means to support their families back home. Plus, the online environment breaks the distance boundary. Their families are subscribers of Beeline, Magti, My Phone, Bani, Bali, Geocell, Lailai, some of the leading networks in Georgia.
According to Wikipedia, Georgian migration started as early as the 1890s. But in the last decades, the number increased in agreement to the more and more dynamic global migration trend. In 2007 alone, there were almost 12,000 Georgians in the USA according to migrationsmap.net, and 267,687 in Europe. Meanwhile the numbers went up, so there are even more expats from Georgia supporting families from abroad.
There are several advantages of using the online mobile credit transfer:
-Since the purchase is made online, that saves the family in Georgia time and money. Some live in remote villages, and the online top up helps them get the credit instantly.
-No one stays in the queue, because online transactions are made automatically.
-The top up gets to the destination number instantly.
-The top up can be sent as a gift, avoiding all the hassle of shipping.
-It takes less than 1 minute to fill in the online form on MobileRecharge.com.
-A customer support service available 24/7 answers all questions promptly and clearly in several languages
-All records (invoices & history) are displayed in the online account.
-Holding an account is free.
-Regular promotions add free mobile credit on top ups.
Anyone interested in top ups to mobiles in Georgia, Eastern Europe, needs to follow these steps:
-First, one should create an account on MobileRecharge.com
-Next, he or she can recharge from the account or go to the online ordering form.
Every 2 minutes a new customer joins MobileRecharge.com. On review websites such as Trustpilot, customers point out the aspects that make the service more popular than other global providers:
-Transactions are 100% safe.
-Paypal accounts are accepted besides all major cards, no matter the currency or country of the sender.
-The service is among the easiest to use on the global market.
-MobileRecharge app is free to install, and it is available for Spanish or English speakers who want to refill on the go.
-The website is available in several languages: English, Spanish, German, French and Italian.
-There are daily promotions always running on the website's "Promotions" page, or on the MobileRecharge app.
-The Facebook fans and the G+ or Twitter followers are automatically notified about the on-going promotions as they happen.
-The Customer Service is seen as highly supportive (reviews prove this) and it is available 24/7 in both Spanish and English.
-Potential customers and existing ones have an expat community on MobileRecharge.com Facebook page: https://www.facebook.com/MobileRecharge.Fan
-Video tutorials are available on YouTube for independent users.
-Interesting How-to articles and fun stuff is available on their blog as well: http://blog.mobilerecharge.com/
About MobileRecharge.com
MobileRecharge.com is an interactive website designed by KeepCalling, a global telecommunications company registered in 2002 in USA. Presently, KeepCalling provides its services to hundreds of thousands of consumers and businesses, with a focus on customer satisfaction. KeepCalling has been listed by Inc 5000 as one of the fastest growing companies in the USA for 5 consecutive years. In 2015 the company registered a revenue increase of over 200% from 2011 to 2014.