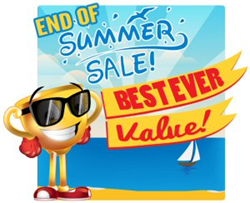 EyecareUniverse.com is offering a end of summer sale with discounts up to 33% off select sunglasses and frames.
Elmsford, NY (PRWEB) September 19, 2015
New York based Eye Care Associates enters its 16th year in business online as the operator of EyecareUniverse.com, an online e-tailer that sells contact lenses, contact lens removers and other items that are eye care related such as prescription glasses and designer sunglasses. EyecareUniverse.com is supervised by a team of eye care professionals, Ophthalmologists, Optometrists, and Opticians to best service their patients' needs and questions.
Beginning today, Eyecare Universe is kicking off its first End of Summer sale in which visitors can find deeply discounted offers on designer sunglasses and frames as much as up to 33% off. In order to take advantage of this deal, visitors of EyecareUniverse.com must go to the following page to view all discounted products http://www.eyecareuniverse.com/summer-blowout. PJ the Online Marketing Manager said, "You read that right… Fall is right around the corner and because it's depressing to think of the leaves coming down and the cold weather coming, we want to put a smile on your faces with our "End of Summer Sale" deal! For the entire remaining days of summer... you can get up to 33% off on select items we sell on our website http://www.eyecareuniverse.com without needing a coupon code."
The End of Summer Sale Eyecare Universe is providing will not last long since summer ends on September 23rd 2015 at 11:59PM. With the summer ending and the season of Fall beginning, the up to 33% one can save can go towards more school supplies, a new sweater or visiting your favorite apple farm.
EyecareUniverse.com is based out of Westchester County, NY and have offices in New York City and Mahwah NJ. EyecareUniverse.com has been in business online for the last 16 years selling Acuvue contact lenses, contact lens removers, contact solutions, eye vitamins and all things eye care related such as designer sunglasses and frames.