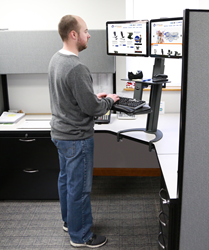 Keeping workers healthy, instead of paying high costs to rehabilitate injured workers, is one of the answers that HealthPostures aims to offer
(PRWEB) September 22, 2015
HealthPostures announced today that it will attend the 23rd Annual South Dakota Safety & Health Conference at the Sioux Falls Arena and Convention Center. The conference will be held on October 14, 2015. Developed by human resources specialists in the health and safety industry, the conference will offer expert information and guidance on OSHA rules, workplace safety, safety management and human resources issues. HealthPostures is a key workplace safety exhibitor, providing conference attendees with chance to experience innovative technology up close.
HealthPostures' builds office desks, computer accessories and industrial solutions that help organizational leaders and workers achieve workplace safety. Since it was founded in 1996, HealthPostures has developed more than 30 ergonomics solutions. The 5010 Stance Move Seat Extension, 6254 Surface TaskMate, 6340 TaskMate Go Organizer, 6100 TaskMate Executive and TaskMate Journey are among the firm's workplace health and safety products.
Across industries, OSHA, human resources specialists and companies of all sizes search for effective, cost efficient answers to worker productivity and overall health challenges. Over the last several years, healthcare costs for employers and employees has risen. Keeping workers healthy, instead of paying high costs to rehabilitate injured workers, is one of the answers that HealthPostures aims to offer.
This is due, in large part, because HealthPostures knows that our bodies are meant to move. Its products promote mobility while workers complete projects while standing or sitting. With American workers logging longer hours, sit to stand ergonomics solutions are increasingly gaining the attention of facilities, safety, healthcare and human resources leaders. Attendees at the 23rd Annual South Dakota Safety & Health Conference will get to meet with exhibitors like HealthPostures face to face.
Half day sessions and breakout sessions are available at the conference. The morning half day session highlights resiliency while building toward success. The afternoon half day session focuses on developing foundations and strategies to boost worker value to achieve organizational goals. There is a safety training on how to avoid burnout and crashes. Ergonomics is spotlighted during the trends and what's new discussion. Sponsoring the conference are local and national organizations: Avera, the South Dakota Safety Council, Sanford Health, Chiropractic Associates, the South Dakota Department of Labor and Regulation and the Society for Human Resource Management.
About HealthPostures
HealthPostures LLC (https://healthpostures.com) specializes in the design, development and manufacturing of workplace safety ergonomics products and equipment. For nearly 20 years, the company has built the equipment that is helping people to stay healthy while they work. The firm has developed pioneering ergonomic sit stand solutions since 1996. A key mission of HealthPostures' is to "strive to provide quality products that will help transform your sedentary life so you have a healthy way to work." Office solutions sit stand products HealthPostures designs and manufactures include dual monitor sit stand work stations, adjustable mouse stands, dual monitor arm accessories, Stance move seat extensions, industrial surface Taskmates and Stance Move chairs.
Contact:
HealthPostures LLC
14310 Ewing Avenue South, Suite 100
Burnsville, MN 55306
800-277-1841
https://healthpostures.com
Resources:
http://www.southdakotasafetycouncil.org/conf/index.cfm