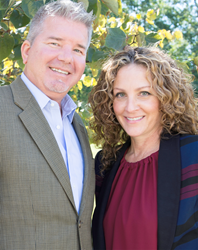 This will help our customers embrace retail sales and increase their profits like never before.
Abingdon, VA (PRWEB) September 21, 2015
Good news for the spa and resort industry, as well as for retail spa vendors: Spa supplier Universal Companies has acquired À la Mode Partners, a retail resource focused on spa retail products and marketing. À la Mode Partners—the brainchild of Founder and CEO Tracie Wertz and Chief Marketing Officer Bill Barczy—will bring a collective 40 years of retail expertise and products to the Abingdon, Virginia spa supplier.
"À la Mode is a perfect fit for Universal Companies and we are thrilled to welcome them, " says Universal Companies CEO Brenda Elliott. "Bringing Tracie and Bill on board will enhance our mission of delivering innovative spa solutions to maximize our customers' success. Their background and knowledge in the spa and resort industry combined with the expansive retail collection they bring with them will help our customers embrace retail sales and increase their profits like never before."
What can Universal Companies and À la Mode do for spas?
À la Mode applies proven retail strategies to the non-traditional spa retail environment for optimum results. "We want to be your retail partner," Wertz explains to spas. "Our goal is to help YOU drive incremental, profitable revenue. We can quickly diagnose and overcome your retail challenges to provide you with immediate and long-term solutions and measurable growth. And when we help you become better at retail, you'll have more time to focus on the rest of your business."
Barczy adds, "Our passion is retail because a spa's profit is so closely tied to retail. The opportunity is huge, but it's also challenging because spa operators often don't have the background, time, or finances to put into retail. We understand that, and so we provide the basic building blocks of retail management: the right principles, products, and promotions at the right time."
With four levels of consulting services, from complimentary assessment to full blown, custom corporate consulting, À la Mode recognizes and addresses the fact that every spa is unique and has different goals. Whether you need a fresh perspective, minor tweaks to your existing program, or a complete retail overhaul, Universal Companies and À la Mode will provide service in all areas of retail management.
Emerging, Trendy, & Eco-Chic
In addition to retail guidance, À la Mode and Universal Companies will be the premiere retail resource for approximately 75 emerging, trendy, and eco-chic brands outside of skin care that inspire spontaneous purchases, client retention, and consumer connection. Wertz says, "This portfolio of products offers variety, promotional opportunities, and seasonal shifts to give you an exciting range of items that will keep your clients coming in frequently. Most of the vendors we work with have strong sustainability stories, are made in the USA, have charitable or community missions, are promotion-savvy, and provide enticing, on-trend products to keep inventory moving."
Universal Companies customers will get their first look at the new retail offerings when the 2016 edition of The Spa Resource Book is launched next spring. The annual catalog is one of the most comprehensive resources available to spas. In addition to professional products, supplies, and equipment, the 2016 edition will feature more than 40 brands encompassing hundreds of consumer products in a greatly expanded collection designed to provide spas with a multitude of options for increasing revenue through retail sales.
Retail vendors, especially those for emerging brands, also face challenges penetrating the spa market. Universal Companies and À La Mode can help remove these barriers by providing a national sales team and access to a network of key buyers.
Universal Companies: Your One Source Spa Solution®
This exciting new retail program is just one of many business solutions Universal Companies has brought to the spa industry during the past 30+ years. The company is well known in the spa and wellness industry for pioneering business solutions designed to make their customers' businesses as successful as possible. Some of the company's most popular business solutions include:

The addition of the Universal Spa Equipment. This division, introduced in 2014, offers customers the know-how and the resources, products, and equipment to build a better spa. Universal Spa Equipment also offers consulting and custom design services.
Learn & Grow eLearning & training opportunities. Universal Companies has several levels of training available, from complimentary eLearning certifications, digital training materials, and standard treatment protocols to customized on-site visits and training based on brand purchases.
The Spa Resource Book. Universal Companies' annual catalog has evolved from a sparse, 28-page listing of spa products into a 350-page resource and inspiration book for the spa industry—filled not only with products, but also with treatment ideas and protocols, retail inspiration, and Spa Insider® tips.
Get More Information
Whether you're a spa operator or a spa retail vendor, call 800.558.5571 or email twertz(at)universalcompanies(dot)com or bbarczy(at)universalcompanies(dot)com for more information about how Universal Companies and À La Mode can help you make the most of your retail opportunities.
About Tracie Wertz and Bill Barczy
Tracie Wertz is a sales professional with over 20 years' experience in the spa industry. Whether helping her spa clients with product assortment, staff sales training, merchandising, or analytics, she loves to help drive significant sales increases for her clients. Tracie has worked primarily with resort and corporate spas since 2005 and has placed products into the most prestigious properties in the U.S. She also loves helping day spa and med spa owners improve their retail programs and realize greater profitability. Known in the spa industry for her reliability and professionalism, she is recognized as one of the most effective and motivational sales specialists in the industry today.
Bill Barczy has spent nearly 20 years in marketing with a focus on retail. He has executed programs from single categories to national storewide programs. He has worked/managed agency of record assignments for Kraft Foods and Sears Holdings. His experience ranges from owning/operating a small marketing agency to running a $16MM consumer product division for the largest privately-owned marketing agency in the United States. Bill's wealth of experience working on marketing programs from every angle gives him a unique perspective as well as the appreciation that no matter how big or small the project, it all starts with the same approach and the same desire for success.
About Universal Companies
For more than 30 years, 30,000+ spa professionals in 47 countries have trusted Universal Companies to be their single-source supplier, providing thousands of products to help them manage and grow their businesses. Located in beautiful and historic Abingdon, Virginia, we distribute furniture, fixtures, equipment, implements, supplies, and spa apparel to customers from the largest spa to the independent practitioner. Universal Companies also offers professional skin and body products, retail items, and merchandising tools, and provides spas with innovative consulting services, educational materials, and training options. For more information about our company, please call 800-558-5571 or visit http://www.universalcompanies.com.