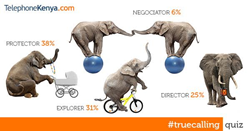 Extremely efficient! I found the website easy to follow. Each transaction was processed quickly and without complications. Very happy! (Helen on Trustpilot.com)
Atlanta, GA (PRWEB) September 20, 2015
A survey launched by TelephoneKenya.com on their social media pages, show that Kenyan expats meet 4 roles when it comes to their true calling in life. 38% of those who took the test ended up as Protectors (Honey bee Protectors), followed by 31% who were identified as Restless Explorers. It seems that 25% feel at best in the Director-type skin, having holistic perspective and organising skills, while only 6% felt they were natural-born Negotiators. The quiz is still available down the Facebook page at https://www.facebook.com/telephonekenya.
The personality test was created and shared by TelephoneKenya.com to help fans better understand themselves and their role in their communities. The test is well researched, as well as simple and touchy. On its social media pages, TelephoneKenya.com make available other goodies besides quizzes: contests, offers, infographics about Kenyan expats, interesting articles, social events, etc.
Getting back to the results of the survey, a 38% majority of the Kenyan expats are "Protectors" and that says a lot about them. The Protector type, also known as the Guardian in scientific writings, represents a well established concept in the modern psychology.
Kenyan expats who are Protectors are naturally born to bring people closer, they are friendly and love sharing. People turn to those who fall under the category of the Protector for advice or a life lesson or even a down-to-earth pep talk. Protectors are also coaches and storytellers, but above all, real providers for their families.
There are hundreds of thousands of Kenyans making calls to their friends and family back home regularly, as well as sending top ups to mobiles in Kenya, which proves their generosity and supportive spirit, as well as their tight connections.
The Restless Explorer type ranked #2 in the results of this test for Kenyans worldwide. This fact confirms the obvious. Kenyan expats are really courageous and love challenges and adventure. It is obvious they left their native towns or villages to reach as far as the USA, Canada or Australia. And that is a real proof of courage and optimism and fast self development while being out of one's comfort zone.
The Explorer type has an interesting philosophy related to risk-taking. The quest for something new implies taking risks, but their optimism leaves room for quick adaptation. Adventure in their case can refer to new cultures, new working environment, the urban jungle and all the beautiful mess of human nature. Anything that is not familiar does not scare them, but makes them curios. They give meaning to things around them and that makes them really sensitive people.
What TelephoneKenya.com has been primarily established to support long-distance communication between Kenyan expats and their families back home. The service offers its fans rates as low as 9.9 cents/minute to landlines in Kenya or 11.9 cents/minute for calls to mobiles there via the service called Voice Credit. The balance in this case never expires.
Monthly plans are a second option on TelephoneKenya.com. They bring even lower rates: 11 cents/minute for calls to both landlines and mobiles in Kenya.
No matter what service one uses to call India (Voice Credit or Monthly Plan), calls can be placed from:

Any phone through the use of access numbers, which case no Internet access is needed.
Any computer with Internet connection through the Web Call application.
Any Android or iOS smartphone using "KeepCalling" free app. Calls placed from the app will use the phone Contacts list if they are saved in international format.
TelephoneKenya.com plans more interesting activities to entertain and support their fans, plus the website plans to further develop the service according to feedback received.
About TelephoneKenya.com
TelephoneKenya.com is an interactive website designed by KeepCalling, a global telecommunications company registered in 2002 in USA. Presently, KeepCalling provides its services to hundreds of thousands of consumers and businesses, with a focus on customer satisfaction. KeepCalling has been listed by Inc 5000 as one of the fastest growing companies in the USA for 5 consecutive years. In 2015 the company registered a revenue increase of over 200% from 2011 to 2014.