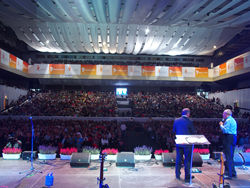 My experiences in a Czechoslovak prison for Bible smuggling during the 1970s, gave me a great love for this nation, for you.
(PRWEB UK) 21 September 2015
On Friday 11, Saturday 12 and Sunday 13 September, David Hathaway held a 'Festival of Life' in Bratislava, Slovakia; a three day celebration of faith in Christ Jesus, which drew thousands of people from across Slovakia and neighbouring Czech Republic, Hungary, Austria and Belarus.
The event began with a press conference covered by the Official News Agency of the Slovak Republic (Terak.sk), and the two television channels (TV Central and TV Bratislava). These two channels broadcast live the whole of the VIP meeting on the Friday night, which was attended by politicians, business / cultural and religious leaders, and the evangelism in the Expo Arena on the Saturday.
David said, "It is the plan of God that I am here at this particular time, and it is reflected by what happened in the meetings. I paid a price to be here. I am not just someone from the outside, but I have come the hard way, through one of your prisons under communism. This did not make me bitter, but filled me with the love of God for you. When God sent His Son, He sat in a prison like mine, He became personally involved with our suffering - this fills me with a passion."
David was welcomed as a 'bridge between nations and denominations' - a ministry 'dedicated to the unity of Christians around the Cross where together we find Life'. All local denominations within the country took part.
Thousands of unbelievers from all over the country and even from neighbouring countries, filled the Expo Arena. Headphones and translations were organised for everyone who came from outside Slovakia. One pastor from Katowice, Poland came to see David after the evangelism. He said he was so touched by the effectiveness of David's ministry in Poland last year, he didn't want to miss out on the opportunity once again to participate in such a great Gospel event. He told us that after the evangelism last year, they personally opened 3 new churches from the unbelievers that had brought in the buses! And for months afterwards people were coming and telling of the miracles they had received. So this year he organised and brought 21 buses from Poland, 1000 people.
Since 2008 David Hathaway has held these Festival of Life celebrations in Estonia, Latvia, Lithuania and Poland. Each time tens of thousands have attended. On the first night of each event a special service is held for an invited audience of Government and Officials in a either a church or opera house. Then on the following day the Festival is held in either a large arena or, as in Poland, the main park in Katowice, and an aviation museum in Krakow.
About David Hathaway:
David Hathaway: Founder and President of Eurovision Mission to Europe, Editorial Director of Prophetic Vision magazine, is a British Evangelist who has ministered worldwide for over 60 years.
After 11 years as a full-time pastor and evangelist in Britain, David's ministry to Russia and Europe began in 1961 when he organised the first ever expedition to Jerusalem by road, through the Iron Curtain countries. Out of this experience, David began smuggling Bibles into Russia and Eastern Europe until, in 1972, he was arrested, imprisoned and tortured in Czechoslovakia. After serving just one year in prison, David was released by Prime Minister Harold Wilson.
Today, 2015, David's ministry is focused on providing assistance both spiritually and materially to the Russian Holocaust survivors in Israel, and to the former Soviet satellite countries.