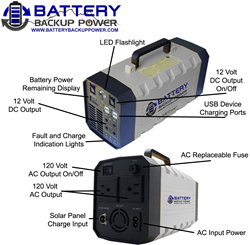 Costa Mesa, California (PRWEB) September 21, 2015
Battery Backup Power, Inc. is raising capital to launch its long life Lithium Iron Phosphate (LiFePO4) uninterruptible power supply (UPS)/battery backup system in the United States after testing and negotiating with part suppliers. The design allows for both 12 volt DC input from a car or solar panel or 120 volt AC input from grid power for charging. Output will be 12 volt DC, 120 volt AC, and USB. Funds raised will initially go to producing the first 500 units (minimum production quantity to keep the price to consumers reasonable) with standard NEMA 5-15 receptacles (sockets required to power most consumer electronics in the United States) as well as submitting the product to UL for testing and certification.
Kickstarter Preview Link: https://www.kickstarter.com/projects/batterybackuppower/6581217?token=34e8e8bd
UPDATE: KICKSTARTER HAS FULLY APPROVED THIS PROJECT
KICKSTARTER LAUNCH DATE: MONDAY, SEPTEMBER 28TH, 2015
The first units produced will be portable and be able to power electronics up to 500 watts. The battery backup system can be used either as an uninterruptible power supply (providing automatic backup power to attached electronics like computers in the case of an outage) or as a portable energy source (powering electronics on camping trips for example). The high amp hour rating of the LiFePO4 battery will mean that electronics can be run for hours on battery power as opposed to just minutes.
Lithium Iron Phosphate batteries are significantly lighter than Sealed Lead Acid (SLA) batteries typically found in UPS systems making them useful as portable battery systems and typically last over 2,000 discharge/charge cycles (5.47 years if used every single day). Current Sealed Lead Acid (SLA) batteries typically only last around 300 discharge/charge cycles (0.82 years if used every single day). The combination of minimal weight, long life, and high amp hour rating now makes energy storage applicable and accessible to everyone, not just large energy companies.
Typical Battery Run Times
Desktop Computer With Monitor: 2 Hours
Laptop Computer: 7 Hours
LED Flashlight: 90 Hours
LCD TV: 4 Hours
Specifications
Output Capacity: 500 watts, 1000 surge
Output Waveform: Modified Sinewave
AC Input: 90 Volts -140 Volts
Solar Input: 12.75 Volts
Battery: Lithium, 12 Volts 26 Amp Hour
AC Output: 120 Volts 60 Hz
AC Sockets: (2) NEMA 5-15R (Standard Wall Sockets In US)
AC To Battery Transfer Time During Outage: <6 Milliseconds
DC Output: 12 Volts, 8 Amps
USB Output: 5 Volts, 6.2 Amps
LED Flashlight: 1 Watt
Weight: 7.7 lbs.
Size: 28 cm X 11 cm X 13.5 cm
Status: Everything is completed other than raising the capital required to begin production.
Battery Backup Power, Inc. is dedicated to continued research and development in green technology and green energy storage with a focus on putting it in the hands of consumers. For more information, call (855) 330-7799 or email engineering(at)batterybackuppower.com.