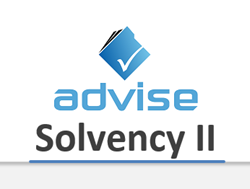 An efficient way to report transparency is key to Solvency II for an asset manager...
New York, NY (PRWEB) September 23, 2015
Advise Technologies is pleased to announce the release of a Solvency II Asset Manager module for its Consensus RMS reporting product. This innovative Solvency II solution allows asset managers to report transparency information to their investors in a repeatable, reliable, and efficient manner using industry standard formats.
Solvency II is a European regulatory framework for EU insurance and reinsurance companies. It consists of requirements relating to capital evaluation (Pillar 1), risk management (Pillar 2), and reporting and disclosure (Pillar 3). Although asset managers are not directly subject to any Solvency II obligations, they will need to provide their insurance investors with extensive data on fund assets so that the insurance undertakings can fulfill their quarterly and annual reporting requirements as well as other obligations under Solvency II.
"An efficient way to report transparency is key to Solvency II for an asset manager," commented Sophia Mouhoub, Country Manager France for Advise. "This module allows them to offer effective solutions to their clients without an unnecessary operational burden. The January 2016 initial reporting deadline is fast approaching and the module meets an important industry need."
The Solvency II offering from Advise is part of the Consensus RMS reporting platform, which offers integrated reporting for other requirements such as AIFMD. By using one set of data across all an investment manager's reporting, the platform ensures consistency and operational efficiency. The module provides support for industry standard formats such as the Tripartite/Club Ampere template as well as client-specific templates.
********************************
About Advise Technologies
Advise is an award winning provider of reporting and compliance software for investment managers. With three flagship products, Vault, Consensus, and Signal, it provides innovative solutions to the regulatory and operational challenges of clients. Founded 2010, it is headquartered in New York with offices in major European financial centers. For more information: http://www.AdviseTechnologies.com.
Contact:
John Bobis
+33 (0)1 82 88 89 01 | +1 (212) 576 1170
info(at)AdviseTechnologies(dot)com