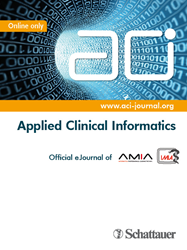 Bethesda, MD (PRWEB) September 21, 2015
The Applied Clinical Informatics (ACI) Journal is now an official journal of AMIA, the American Medical Informatics Association. The ACI Journal is published and owned by Schattauer Publishers for Medicine and Natural Sciences. AMIA gains three seats on the ACI Journal editorial board and peer-reviewed publishing rights for AMIA policy papers and statements of interest to the broader ACI community, as well as promotional opportunities for AMIA meetings, educational products and services.
The agreement also offers ACI subscriptions as part of the AMIA membership benefit package for members, including students.
"ACI Journal draws from a global universe of applied informatics expertise," said Christoph Lehmann, MD, FACMI, editor of ACI, and Scientific Program Committee Chair of the AMIA 2015 Annual Symposium. "ACI is excited about the addition of AMIA representation on the editorial board and exposure to the membership. Given the recognized expertise of AMIA members, we expect even higher quality submissions and improved editorial board decisions."
"AMIA and ACI are a natural fit and Schattauer Publishers is pleased to connect with the 5,000 AMIA members through this relationship designating ACI as an official journal of AMIA," said Jan Haaf, Managing Director, Schattauer.
The addition of the ACI Journal to AMIA's stable of educational products and services is part of the organization's ongoing professional leadership in and for the support of the applied clinical informatics community. AMIA led the charge to professionalize the domain with the development of the medical subspecialty for Clinical Informatics (CI) serving physicians through the American Board of Preventive Medicine and the American Board of Pathology since 2013. Currently, there are 787 physicians board certified Diplomates in clinical informatics with the third cohort set to sit for the exam in October. ACI editor Lehmann also serves as the chair of the CI subspecialty examination committee. AMIA prepares candidates for the exam through its CIBRC Live and online Clinical Informatics Board Review Course Learning Program. AMIA's education programs provide clinical informatics-focused Maintenance of Certification (MOC) offerings for the CI Diplomates.
AMIA's continuing professional development reach extends beyond the medical subspecialty with clinical informatics education offered through AMIA 10x10 online informatics courses presented by 14 university partners. AMIA also is creating an Applied Interprofessional Informatics Certification program (AIIC) for healthcare-focused informaticians including the clinical professions of nursing, pharmacy, dentistry, imaging, nutrition, clinical informatics education and beyond.
Blackford Middleton, MD, MPH, MSc, FACMI, AMIA Board Chair, expressed confidence that the new relationship would positively impact the field. "The AMIA Board of Directors fully recognizes the responsibility of clinical informatics professionals in the transformation of health and healthcare. The ACI Journal is another vehicle endorsing AMIA as an authoritative, current, practical voice in the clinical informatics domain."
The announcement coincides with the confirmation of AMIA's 3rd Annual iHealth Clinical Informatics Conference, May 5-6, 2016 in Minneapolis, Minn. The iHealth meeting brings together an interprofessional group of clinicians, healthcare executives and informatics experts for evidence-based learning on real-world implementation and adoption of informatics based solutions. Topics include next-generation technologies and management strategies addressing interoperability, meaningful use and patient engagement.
ACI Journal will remain an official journal of the International Medical Informatics Association (IMIA).
###
About AMIA
AMIA is the home for more than 5000 health informatics professional, representing researchers, clinicians and public health experts who bring meaning to data, manager information and generate new knowledge in healthcare, Through the Journal of the American Medical Informatics Association, AMIA is seen as the unbiased authoritative source for informatics scholarship and learning within the healthcare industry.
About Schattauer
Schattauer Publishers for Medicine and Natural Sciences (http://www.schattauer.de) is an owner-managed company, founded in 1949, independent from media groups and investment firms. The main pillars of the publishing house (located in Stuttgart/Germany) are its renowned textbook program with over 1200 available books, ebooks and digital data and 21 national and international scientific journals as well as the congress organization "Schattauer Convention" which offers continuing education for doctors, psychologists, psychotherapists and psychiatrists as well as veterinarians. The Psychiatrie-Verlag (http://www.psychiatrie-verlag.de), Köln/Germany, is affiliated with Schattauer Publishers.