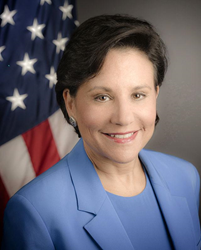 I am sincerely proud of the hard work DTE has put into an important endeavor like Manufacturing Day 2015.
Lebanon, MO (PRWEB) September 20, 2015
As DTE Inc., a Missouri-based custom automation systems and tooling business, gears up to be an integral part of Manufacturing Day 2015 on October 2, U.S. Secretary of Commerce Penny Pritzker presented a path forward for American manufacturing on September 16, mentioning the dynamic involvement of DTE with "MFG Day". Before a diverse group of private and public sector leaders, Secretary Pritzker explained her vision for a road forward with regard to innovation in U.S. manufacturing at the American Energy and Manufacturing Competitiveness Summit, hosted by the U.S. Department of Energy and the Council on Competitiveness.
"One of the companies that participated in our first Manufacturing Day in 2013 was DTE, a small firm that has been producing custom automation systems for more than 80 years," said Pritzker at September 16's American Energy and Manufacturing Competitiveness Summit. "Chris Monzyk – a student at a nearby technical college – took a tour of DTE's facility and saw firsthand how exciting a career in manufacturing can be. DTE hired Chris when he graduated as a machinist, providing him the specialized training he needed to perform his new job and matched him with a long-time employee as his mentor."
"Chris is but one example of why manufacturing must remain the backbone of America's growing economy – and why the state of today's manufacturing sector has to soldier on as an innovative, constantly-evolving field that can build lasting careers and stronger communities. I am sincerely proud of the hard work DTE has put into an important endeavor like Manufacturing Day 2015."
With regard to his involvement in the manufacturing industry, Monzyk says, "Working in manufacturing is fun, exciting and new every day; I get to make something from virtually nothing, and that's all owed to the confidence DTE had in a machinist graduate such as myself."
DTE's involvement in Manufacturing Day 2015 includes, but is certainly not limited to, inviting area vocational-technical schools for a tour of the facilities, exposing them to presentations by employees and allowing them to indulge in a reception. As a nationwide event taking place on October 2, Manufacturing Day 2015 has traditionally been hosted or sponsored by hundreds of manufacturers to promote an understanding of manufacturing and encourage careers. According to DTE representatives, the company will do just that by helping young people discover a career path during Manufacturing Day 2015.
"We want to use Manufacturing Day as a means to reach out to schools in one-on-one conversations and find the newest generation of DTE employees," concludes DTE president Tom Waters. "What had started as a way to be a 'good corporate citizen' has become an employee recruiting tool for us as well as a great opportunity for those seeking a unique career path. Manufacturing Day addresses common misconceptions about manufacturing by giving manufacturers an opportunity to open their doors and show – in a coordinated effort – what manufacturing is and is not; by working together during and after MFG Day, entities such as DTE can begin to talk about the skilled labor shortages we face while connecting with future generations and taking charge of the public image of manufacturing."
About DTE Inc.
Delivering over 80 years of excellence, DTE Inc. provides custom automation systems and tooling for a myriad of industries including the appliance, agriculture, automotive, medical, pharmaceutical and consumer product markets. The company's experienced team of project managers, mechanical engineers, control engineers, machinists and assemblers continue to represent the most valuable asset to DTE, its staff applying a wide range of technologies and engineered solutions in all facets of parts manufacturing.
DTE Inc. is located at 1107 Springfield Road in Lebanon, MO and can be reached by calling (417) 720-8108. For more information visit http://www.DetroitTool.com.