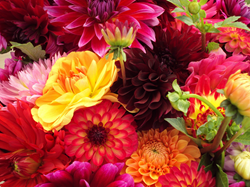 Best Fall Festivals in the South
New Bern, North Carolina (PRWEB) September 19, 2015
Real Estate Scorecard encourages folks to celebrate the start of the fall season at the 35th Annual MumFest in downtown New Bern, North Carolina. One of the best festivals in the south will be held on October 10th & 11th at Tryon Palace. The flower themed event will be jam-packed with traditional fun along with some new features. Now in its 35th year, the MumFest remains one of North Carolina's favorite coastal festivals. The celebration of the popular fall plant, Chrysanthemums, attracts locals as well as tourists of all ages. That's because there a plethora of fun things to do. And judging from this year's list of events and attractions, there's even more scheduled. Take a look at the what's on tap:
MUMFEST EVENTS
Down to Earth Aerial Acrobatics - Sat/Sun at Union Point Park
Pirates Revenge - Sat/Sun at Union Point Park
Purina Incredible Dog Team - Sat/Sun at Union Point Park
The YO-YO Guy - Sat/Sun Intersection Craven Street & Broad Streets
Alex Clark Juggler & Comedian - Sat/Sun Intersection Middle & Broad Streets
Bank of the Arts – Entertainment - Sat/Sun 317 Middle Street
New Bern Police Department K-9 Demonstrations - Sat/Sun 300 Block - Craven Street
"Dunk a Cop" New Bern Police Department - Sat/Sun Craven Street at City Hall
Dance Arena - Saturday/ County Admin building & Sudan Temple parking area
Lil' KIDSTUFF KORNER - Sat/Sun Under the Tent – Broad & Middle Streets parking are
While the activities are a menu of fun, undoubtedly the main attraction will be the mums. Chrysanthemums, also known as mums, are a traditional sign that fall is in the air. This fall flower is a favorite of gardeners and can be found gracing many homes in the North Carolina coastal communities. Its popularity perhaps is due in part to its variety of colors and heartiness. Mums also require low maintenance and they are durable and can sustain a light frost. So, if mums are a garden must this fall, don't miss the 2015 Annual MumFest to pickup some new ideas of how to showcase them at your home.
Organizers of this award-winning event go the extra mile to encompass all that the New Bern community, one of the top places to live in North Carolina. It's that kind of community involvement that makes New Bern popular among retirees. The 300 year old coastal town may be small, but ask residents and they'll likely agree, New Bern offers big benefits. The beautiful weather, year-round events, water sports, old-fashioned hardware and antique stores and authentic seafood restaurants are just a few of the area's treasures. In addition, residents enjoy a closeness among the North Carolina coastal communities.
It's that type of southern hospitality that makes Baby Boomers, who are looking to retire by the sea, consider buying a house for sale in North Carolina on the water in New Bern. The waterfront properties are designed to meet the needs of sea lovers who want luxury and comfort at affordable prices.
Neighboring Oriental is one of those places that offer those types of waterfront homes. The sailing town is home to River Dunes, a nautical themed master planned community who's won three Bliss Awards for Best Boating Community of the Year.
Here's a quick overview about River Dunes amenities:
RIVER DUNES AMENITIES
11,500 Square Foot Clubhouse overlooking the marina with dining
Grace Harbor Marina and Private 1,100 Foot Boating Access Channel
124 Deepwater Boat Slips with utilities
Outdoor Swimming Pool overlooking the marina
Fireside Hot Tub and Cozy Cabanas
Fitness Center with Steam Showers
Two Lighted Har-Tru Tennis Courts
The Lake House for social events
238 Acre Nature Preserve
Guest Cottages
Riverside Chapel
Whether it's sailing, kayaking or fishing, there's something to do year round to satisfy the water lover. Aside from that, Oriental's rich history, museums, shops, and fine dining are another big draw to this seaside town. The area is also known for its fun festivals, which include the Oriental Dragon Boat Race Festival, and the ever-popular Crocker Festival.
If finding a house for sale in North Carolina on the water is high on the list, River Dunes is a great place to start. It's protected Grace Harbor Marina is an award winning marina and priceless amenity to sailboat and power boat owners at River Dunes. The beauty of this maritime village jumps off the pages of a coastal home magazine.
About Real Estate Scorecard:
Real Estate Scorecard writes unbiased real estate reviews providing in-depth information about popular gated communities in Florida,
Georgia, the Carolinas, Tennessee and Central America, all in an effort to help people discover where to retire in the South.
Website: http://realestatescorecard.com