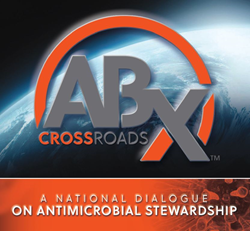 Spreading awareness of this problem and establishing strategic initiatives is imperative to combating the adverse effects antibiotic-resistant infections have on hospitals, healthcare systems, long-term care facilities, and whole communities
Knoxville, TN (PRWEB) September 22, 2015
The danger posed by antibiotic-resistant bacteria may be the single largest threat facing the world today; the problem has reached crisis levels. For the millions of lives that have been saved by antibiotics, we are now in an excruciatingly compromised and tenuous situation due to their overuse.
PYA is proud to announce that J. Michael Keegan, MD, an infectious disease specialist who leads the company's antibiotic stewardship effort, will moderate the ABX CROSSROADS symposium, designed to advance "a national dialogue on antimicrobial stewardship." ABX CROSSROADS will be held November 6, 2015, at the Hutton Hotel in Nashville, Tennessee. This inaugural event will be complimentary for registered attendees, but seating is limited, so reserve your spot here.
ABX CROSSROADS will feature six nationally and internationally acclaimed speakers in the field of antimicrobial resistance countermeasures and solutions. The presentations will shine a brighter light on the clinical applications and measurement of antimicrobial initiatives—including economic considerations—in the acute and post-acute care settings.
"Spreading awareness of this problem and establishing strategic initiatives is imperative to combating the adverse effects antibiotic-resistant infections have on hospitals, healthcare systems, long-term care facilities, and whole communities. The response must be thought of in a multidisciplinary context. The ABX CROSSROADS symposium will be an important step toward connecting the dots for a solution to this vexing, societal problem," said Dr. Keegan.
Dr. Keegan is known for espousing his philosophy of "aggressive diagnostics and conservative therapeutics.™" His work over the last 25 years includes the establishment, integration, and measurement of antibiotic programs in hospitals, long-term care facilities, medical practices, care systems, and statewide hospital associations. Combined with the national healthcare advisory footprint of PYA, Dr. Keegan's antibiotic stewardship team has the resources and reach to help clients in all 50 states. In case you missed it, you can find out more about the antibiotic stewardship initiative in PYA's Antibiotic Stewardship News Release.
PYA is the 9th largest privately held healthcare consulting firm in the U.S. according to Modern Healthcare.
---
About PYA
For over three decades, Pershing Yoakley & Associates (PYA), a national professional services firm providing management consulting and accounting has helped its clients navigate and derive value amid complex challenges related to regulatory compliance, mergers and acquisitions, governance, business valuations and fair market value assessments, multi-unit business and clinical integrations, best practices, tax and assurance, business analysis, and operations optimization.
Founded in 1983, PYA's steadfast commitment to an unwavering client-centric culture has served the firm's clients well. PYA is now ranked by Modern Healthcare as the 9th largest privately owned healthcare consulting firm in the US. PYA is also ranked 103rd by INSIDE Public Accounting's "Top 200" Largest Accounting Firms. PYA affiliate companies offer clients world-class data analytics, professional real estate development and advisory resources, self-insured employer health insurance claims audits for Fortune 500 companies, wealth management and retirement plan administration, and business transitions consulting.
PYA is headquartered in Knoxville, Tennessee. For more information, please visit http://www.pyapc.com/