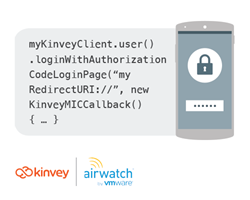 Enterprises want to deliver apps that are easy to consume, and Kinvey provides an incredibly simple way for developers to connect their apps with our leading solutions
Atlanta, GA (PRWEB) September 22, 2015
Kinvey (http://www.kinvey.com), the leading enterprise mobile Backend as a Service (mBaaS), today announced the industry's first "one line of code" integration with VMware Identity Manager and AirWatch by VMware single sign-on (SSO) capabilities, providing enterprise app developers with all the benefits of VMware's advanced solutions with a single line of code. The integration decreases development time by 80 percent and eliminates the need for mobile app developers to learn SAML, Active Directory, and other enterprise authentication approaches.
Securely connecting mobile apps to enterprise credentials is difficult given the multiple methods of authentication used across systems. By integrating Kinvey Mobile Identity Connect with AirWatch and VMware Identity Manager, enterprises can easily extend their corporate login credentials to any mobile or web app. The solution removes the burden of repetitive logins by providing a single point of entry across all applications with single sign on capabilities in connection with AirWatch SSO and VMware Identity Manager.
Mobile developers are familiar with OAuth authentication and often lack SAML-specific programming expertise. This solution eliminates the need for them get into these details. The developer is simply required to map identity for an application to Kinvey Mobile Identity Connect with a single function call, and Kinvey securely handles the access, handshake, and token management with AirWatch SSO and VMware Identity Manager.
"Enterprises want to deliver apps that are easy to consume, and Kinvey provides an incredibly simple way for developers to connect their apps with our leading solutions, including VMware Identity Manager, AirWatch SSO and the ACE community," said Noah Wasmer, CTO and Vice President of Product Management, End-User Computing, VMware. "Together with Kinvey, we can enable even more organizations to take advantage of VMware's leading solutions across all enterprise apps."
"The solution dramatically simplifies enterprise mobile app authentication", said Brian Wilson, Kinvey CTO. "Kinvey Mobile Identity Connect provides developers with secure, pre-built identity management, freeing them to focus on user experience."
The integration is provided as part of Kinvey's mobile Backend as a Service running in a multi-tenant or dedicated instance on VMware's vCloud Air hybrid cloud service.
In addition, Kinvey also announced it has joined the leading application innovator ACE (Application Configuration for Enterprise) initiative, adding mBaaS expertise to the existing membership including AirWatch, Box, Cisco, Workday, and other enterprise leaders. ACE is an open, vendor-neutral community that drives best practices for application management and security for easy deployment via enterprise mobility management (EMM) solutions.
"By participating in ACE, Kinvey can easily provide connectivity to enterprise authentication with consistent and secure single sign-on," said Wilson. "As the leading enterprise mBaaS, we focus on enabling our customers to get to market with 5-Star apps twice as fast and at half the cost. The ACE open standard for managing and securing apps enhances this value proposition."
About Kinvey
Kinvey is the leading enterprise Mobile Backend as a Service (MBaaS) platform that helps enterprises, agencies, and developers launch successful and engaging apps. Kinvey provides comprehensive support for native, hybrid, and mobile Web applications and delivers out of the box enterprise capabilities including identity management, integration with enterprise data sources and a data store and file store for new mobile data, ability to run customized business logic, and a rich set of mobile engagement services. Kinvey runs in a multi-tenant cloud or in a dedicated public or private cloud. On average, Kinvey customers launch apps twice as fast and at half the cost as traditional methods. For more information, visit http://www.kinvey.com.
VMware, Identity Manager, AirWatch, AirWatch by VMware, vCloud, and vCloud Air are registered trademarks or trademarks of VMware, Inc. or its subsidiaries in the United States and other jurisdictions. The use of the word "partner" or "partnership" does not imply a legal partnership relationship between VMware and any other company.