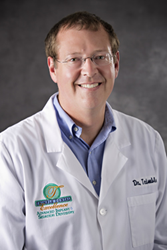 Menomonie, WI (PRWEB) September 21, 2015
In keeping with the spirit of Self-Improvement Month during September, Dr. Bruce Trimble encourages patients with missing teeth to improve their appearance and oral health, with dental implants in Menomonie, WI. Dr. Trimble offers single implants to replace individual teeth, implant-supported dentures to replace multiple teeth, and All-on-4™ dental implants for those seeking immediate results. All options provide patients with low-maintenance solutions and long-term health benefits.
Dental implants can provide great benefits for many patients. Implants simulate the appearance and functionality of natural teeth, so inconspicuous, that many cannot distinguish the dental prosthetics among the natural teeth. Patients may also experience improved speech, easier food consumption, and improved comfort over the use of traditional dentures. Implants are simple devices that can be utilized to replace individual teeth or multiple, as many as deemed necessary. The implant is comprised of a titanium root, a crown, and an abutment piece that adjoins the two. The titanium root is surgically implanted within the jaw, binding to the bone in a process known as osseointegration. This creates a long-lasting bond similar to that found in natural teeth.
Alternatively, patients in Menomonie, WI, who are not suitable candidates for dental implants, may be referred to All-on-4™ as a better treatment option. All-on-4™ is an implant supported denture, providing patients with the affordability of a dental prosthesis, combined with the stability of implants. When patients select this option, they receive four strategically placed implants within their jaw. These provide a supporting base and structural support, for a dental prosthesis that is permanently affixed to the implants. This allows patients to experience an immediate improvement in their smiles, along with their self-esteem.
Dr. Trimble welcomes patients with one or more missing teeth in Menomonie, WI to learn more about dental implants. Those who would like to learn more about their options are encouraged to contact Dr. Trimble's office to schedule an appointment, at (715) 802-4360 or visit his website at http://www.trimbledental.com
About the Doctor
Trimble Dental Excellence is a general practice offering personalized care for patients in Menomonie, WI. Dr. Bruce Trimble offers a variety of services, include advanced dental implants and sedation dentistry. Dr. Trimble is a graduate of the University of Minnesota & has dedicated his professional career to providing you with the best that dentistry has to offer. He is continually educating himself & his staff on the newest techniques & advances to offer you state-of-the-art, antiseptic, personalized & comfortable dental care. Dr. Trimble is a fellow of the International Congress of Oral Implantologists & the Misch International Implant Institute. He is also among the few dentists in Wisconsin who are licensed for both IV & oral sedation, & has received a certificate from the Temple School of Dentistry for surgical oral implantology. To learn more about the services offered at Trimble Dental Excellence, please visit their website, http://www.trimbledental.com or call (715) 802-4360 to schedule an appointment.