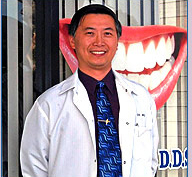 San Diego, CA (PRWEB) September 21, 2015
Individuals with gum disease are now invited by Dr. Xusheng Mu to receive laser dentistry in San Diego, CA. Education and training are required before dental professionals can offer BIOLASE WaterLase iPlus 2.0™ treatments, and Dr. Mu has received both. He is now qualified to utilize BIOLASE WaterLase iPlus 2.0™ procedures in order to minimize patient discomfort while treating their various periodontal disease symptoms.
Dr. Mu encourages patients who have gum disease to take immediate action and receive laser dentistry in San Diego, CA before their symptoms worsen. Although initial symptoms of the condition may be relatively mild, they can quickly become more grievous if not dealt with promptly. Some studies even show a connection between periodontal disease and several life-threatening conditions, including diabetes, stroke and heart disease. Since the Centers for Disease Control and Prevention estimate that half of U.S. adults aged 30 and over are affected with some degree of periodontal disease, it is important to be aware of all available treatment options.
Many patients still have their infected gum tissue removed via scalpel, then stitched up with sutures. While this method has been improving oral health for years, there are less painful alternatives available, including BIOLASE WaterLase iPlus 2.0™ treatments. The gentle and accurate laser utilized in the BIOLASE WaterLase iPlus 2.0™ system removes inflamed gum tissue without contributing to excessive blood loss or pain. Many patients find that laser-based treatment is less time-consuming and uncomfortable than other available treatment options. BIOLASE WaterLase iPlus 2.0™ treatments also minimize a patient's risk of suffering from cross-contamination, since the head of the laser tool does not need to physically touch the area it is treating.
Whether periodontal disease is caused by lack of oral hygiene, medication or family history, laser dentistry in San Diego, CA can alleviate symptoms and help patients regain their quality of life. Dr. Mu extends an invitation to all residents with gum disease to call his office at their earliest convenience and set up an appointment. Patients are invited to ask Dr. Mu more about the various capabilities and benefits of the BIOLASE WaterLase iPlus 2.0™ system prior to receiving treatment for their periodontal disease symptoms.
About The Doctor
Dr. Xusheng Mu is a general dentist offering personalized family and cosmetic care for patients in San Diego, CA. Dr. Mu and his team provide a wide range of services and are committed to high quality, professional care through the use of laser dentistry and other advanced techniques. To learn more about the services offered by Dr. Mu please visit their website at http://www.dentistryinsandiego.com or call (858) 412-7544 to schedule an appointment.